Frag Pro Shooter is one of the best action PVP FPS shooting games that brings together players from around the world to beat each other.
In this game, you will control 5 different characters (3 characters if 2 vs 2 modes) that can be switched whenever needed.
There are 5 game modes that we can play, including 2 vs 2, Street Frag, Payload, Battle, and 1 more mode that is still under development.
If the character you are playing dies, it's not a problem because you can still switch to another character.
Frag Pro Shooter Gameplay
One player will win if he can destroy the entire bunker and kill the enemy as soon as possible.
However, the match time is limited to 3:30 minutes so the player who survives with higher points will be the winner.
Here's an example of Frag Pro Shooter gameplay from various modes :
Frag Pro Shooter Tactics And Tips
Every character has their strengths and weaknesses, try them all to see which ones are best for you.
There are 5 character roles that have different tasks, namely :
Attack = Attacking enemy bunkers
Wild = Can go anywhere
Center = Control the bridge and guard the center of the battle
Camp = Guarding the main bunker
Defense = Guard the lower bunker
This game also relies on tactics, it is better to order the team to defend and gather first. You can order the team to defend or attack by pressing the crown symbol provided.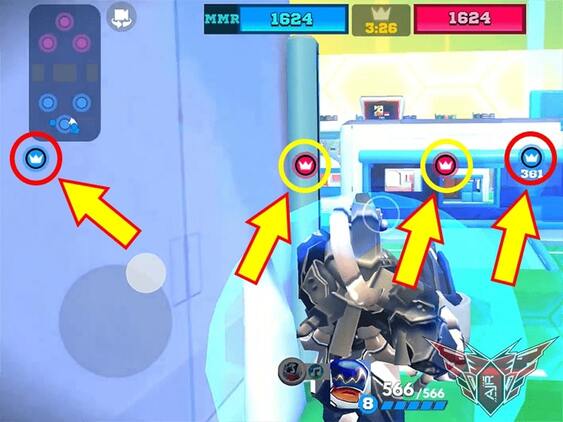 After the opposing team attacked, most likely some of them will die, and that was the perfect time to order the team to attack the enemy bunkers.
Don't forget to always order your team to attack or defend when in the right situation.
Always pay attention to the level of your opponent's cards, if they are stronger you should focus on defending and attacking if some of their characters have died.
I am one of the players with a fairly high trophy but it is not balanced with the quality of the cards, so most enemies have cards and implants that are higher or fuller than mine.
But it can make me more adept at concocting strategies because with limited resources I have to fight a stronger team.
Each game mode also has a different strategy. Especially for the payload mode, I prefer to focus on attacking and have to be good at controlling the character.
There are also various implants that can increase HP, reduce damage, decrease ability cooldown, increase walk speed, increase damage, slow enemies, and so on.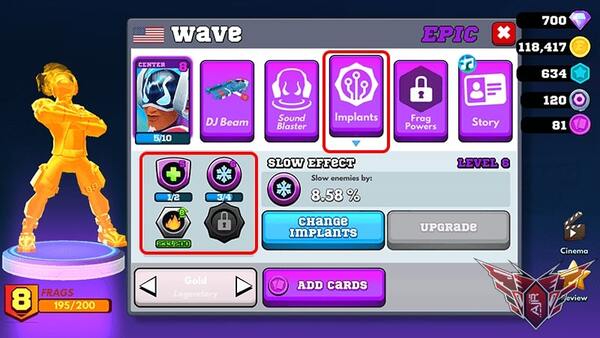 Use these implants on your favorite character. But don't forget that to be able to use all implants slots, you have to upgrade the card.
You can also complete the events to get various attractive rewards in the form of gold, diamonds, cards, implants, card jokers, chips, skin coins, and so on.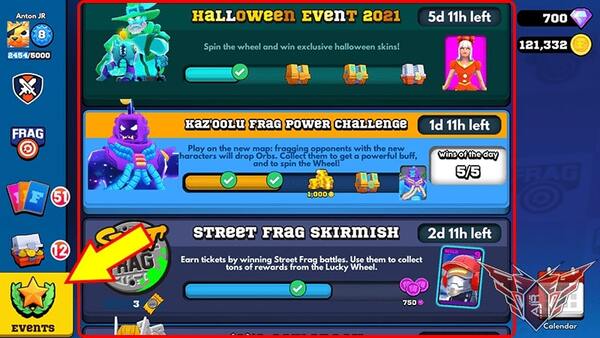 Recomended Frag Pro Shooter Battle Decks
I will share recommended decks according to my experience. But since there are some cards that I haven't got (and there are some that the game hasn't released yet), maybe this isn't the maximum.
Here's a list of cards I haven't received yet :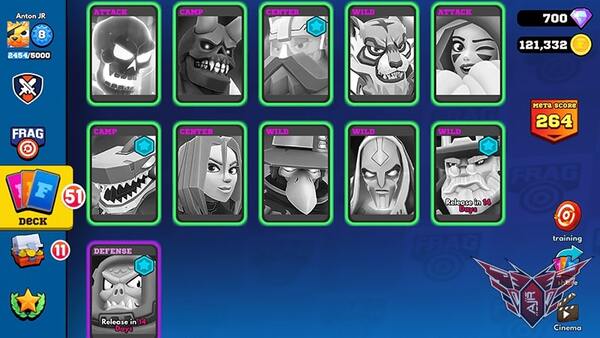 If you have it, feel free to use them because I've tried those characters at events, and they're really strong.
As a complement, later below I will also mention which are the best cards you need to try and you can mix them yourself.
The composition that I apply is based on the number of trophies, so please adjust it according to your needs.
Of course, this is not a patent benchmark because sometimes I also change some characters to adjust the situation.
Here are the battle decks that you can use (please adjust it with the card you have) :
1. Battle Decks For Trophies Under 1000


Missing card but good : Volcano (Attack)
2. Battle Decks For Trophies Under 2000



Missing card but good : Rolaf (Center) and Miss Bunny (Attack)
3. Battle Decks For Trophies Under 4000


Missing card but good : Mekkalodon (Camp) and Dr. Crow (Wild)
4. Battle Decks For Trophies Under 5000


5. Battle Decks For 6500 Trophies And Above







Missing card but good : Ark-on (Wild), Jager (Wild) and Kaz'oolu (Defense)
Frag Pro Shooter Best Cards
Remember, the level of the card also greatly affects the strength of the character. You should reconsider if you want to arrange the composition because not everyone is lucky to get a good character with high card levels.
#1 Best Common Cards
Even though it's common, there are some cards that remain my mainstay. Here are the best common Frag Pro Shooter cards :
Dolb (Defense)
Dr. Frost (Defense)
Big Paku (Defense)
Mecha Knight (Center)
Virus (Camp)
Takeshi (Wild)
Darius (Center)
#2 Best Rare Cards
You can see the battle deck that I used to win many times in different game modes, I used 2-3 rare cards as a composition. This is the best rare card that you must try :
Izuna (Center)
Ao (Center)
Rick Rock (Attack)
Jet (Attack)
Vlad (Camp)
DesperaDOS (Wild)
Ape-Suit (Attack)
Prisoner-99 (Defense)
Cyber Cop (Center)
Bobbler (Defense)
Scrapper (Camp)
DJ Equalizer (Defense)
Blot (Wild)
Hunter (Center)
Dunkan (Camp)
Mimi (Defense)
Stella (Attack)
#3 Best Epic Cards
Although the epic throne is higher than rare, not all cards are of the best quality. Here are the best among the others :
Wave (Center)
Kaz'oolu (Defense)
Freez-B (Attack)
Quarter-BK (Wild)
Lucha Muerta (Attack)
Fragman (Wild)
Bibi™ (Wild)
Hakuryu (Center)
O.K. (Defense)
General Mekk (Attack)
Ron1n (Wild)
T4nkBot (Center)
Sombrero (Camp)
Sunny (Wild)
#4 Best Legendary Cards
All is good, but some characters have very useful abilities. Here's the best choice of legendary cards :
Hades5.1 (Wild)
Laika (Center)
RedShadow (Attack)
GigaGoo (Defense)
Queen Boom (Center)
Ollie (Attack)
Hannibal (Attack)
Duality (Center)
ZapGirl (Camp)
Lilli (Defense)
Krystal (Attack)
Volcano (Attack)
Rolaf (Center)
Miss Bunny (Attack)
Mekkalodon (Camp)
Dr. Crow (Wild)
Ark-On (Wild)
Jäger (Wild)
Wolfson (Wild)
Everything I mentioned above is not based on ranking and is written in no order.
It's difficult to sort by ranking. Because each character is strong against a certain role. That's what makes this Frag Pro Shooter game unique and not boring.
That's a glimpse of Frag Pro Shooter, stay tuned for more interesting content about games, tips, tricks and the like only on Anton JR's blog.