Livery is a complement for the vehicle we use. Especially in the games like Bus Simulator Indonesia, user can install the Yudistira HD bus livery to make the bus look more charming.
Bus Simulator Indonesia game has become the most popular game on Playstore in Indonesia and neighboring countries, even worldwide.
Initially when the quotation "Om Telolet Om" became increasingly popular and even the world-class football players & one of the richest football players, Cristiano Ronaldo take part to saying it.
Seeing this potential, an idea emerged from the youth of the Indonesian nation to create a masterpiece in the game sector.
In addition to introducing the culture of the Indonesian state, the creation of this game can also be an infinite money maker, because everyone is free to express their ideas and creativity in the game.
We all know, games that allow players to modify, create or make certain parts as they wish (and involve many people) will be much more durable than games that are set on a fixed basis.
In the Bus Simulator Indonesia game itself, users can make modifications regarding :
Livery or bus skin
Vehicle MOD
MAP MOD
Graphics and looks
etc
Usually, to install the livery & mod we need to spend money to pay for it, or it can be done by watching advertisements.
What Is Livery?
For those of you who don't understand what livery is, livery is an element that can be installed as clothes on a vehicle such as a car, bus, to motorcycle.
In the real world, you can see the Redbull car design is so cool with a motif that is so striking and describes a challenging terrain, it can also be called as livery.
This motif can be adapted to a particular organization, group or community.
In fact, you can also make livery according to your wishes and motives that have nothing to do with any identity, it's all up to you.
Well, in the Bus Simulator Indonesia game, you can download the livery that I have prepared this time. There are 117 files Yudistira HD bus livery!
Usability
As i mentioned above, a livery can represent a particular group or community, so that it can give a proud impression.
Just imagine, when there is a carnival convoy event that is so exclusive. Everyone uses the exact same shirt design, pants, drums, and even car designs! Isn't that amazing?
So, the use of livery is to beautify the appearance of a vehicle.
In addition, if there are physical scratches on the vehicle body, the livery will cover it elegantly.
How To Apply?
First, you must download the livery files below (after this step), then just go to Garage ⇒ choose Paint Icon in the top of buses ⇒ checklist Full/High Resolution ⇒ find the Yudistira HD bus livery that you downloaded ⇒ and finally, click Install/Apply
Yudistira HD Bus Livery
Oke, this is what i'm talking, 117 files of Yudistira HD bus livery that i'm collect from any source.
You can download it for free, no password and high quality compressed.
It's been compressed?
Yes. But don't worry, I've make sure that the quality is still better for looks.
Anyway, you don't need a resolution of up to 4000×4000. Because the game developer just made the template only 1024×1024, and i've increased it a bit to 1500×1500 (it's pretty enough).
Frag Pro Shooter: Gameplay, Tactics, Decks And Best Cards
Download 117 Yudistira HD Bus Livery Files
Before download it, you can see the image to see how the preview looks when the livery is applied to buses.
Make sure to give a pause when downloading, so the download can run smoothly.
1. ALS Jadul Karat
Jadul is mean ancient time. And ALS is one of bus PO on the Sumatera island, Indonesia. The features in this skin are rust effects and old looking buses.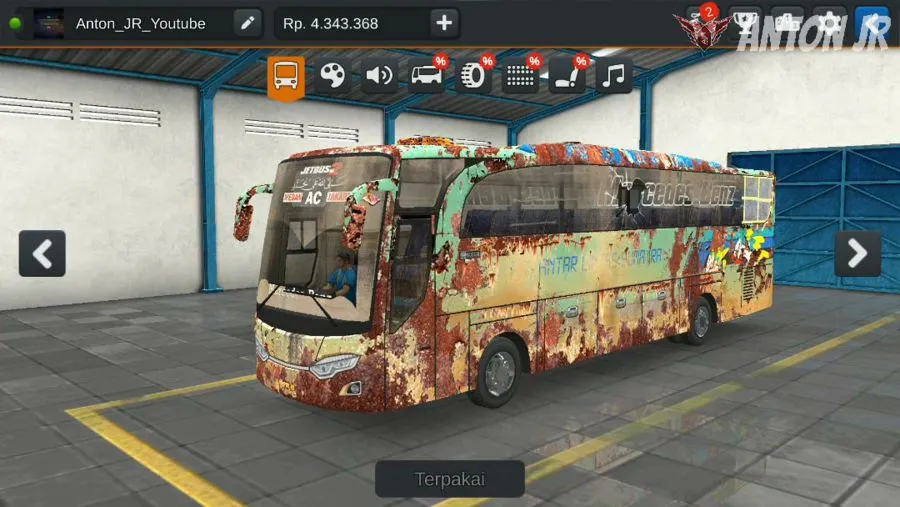 2. ALS Jadul
Same as above, but with no rust effect.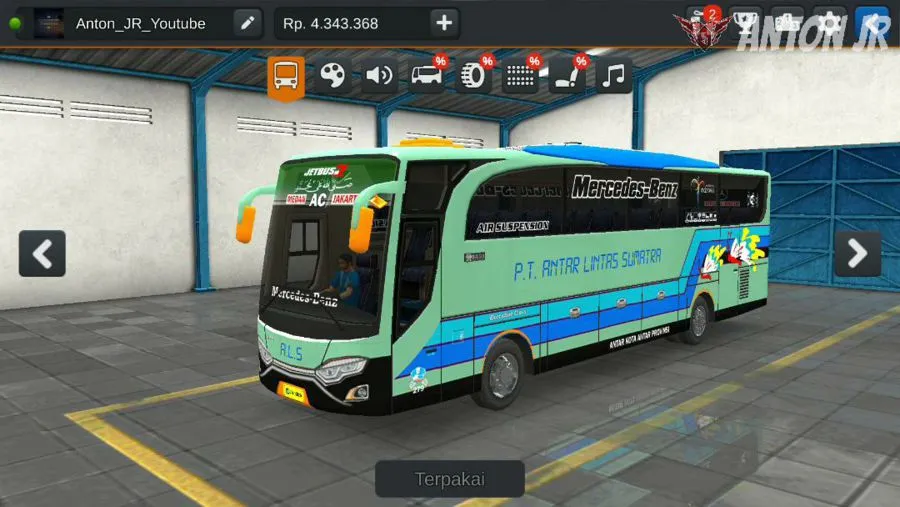 3. ALS SR1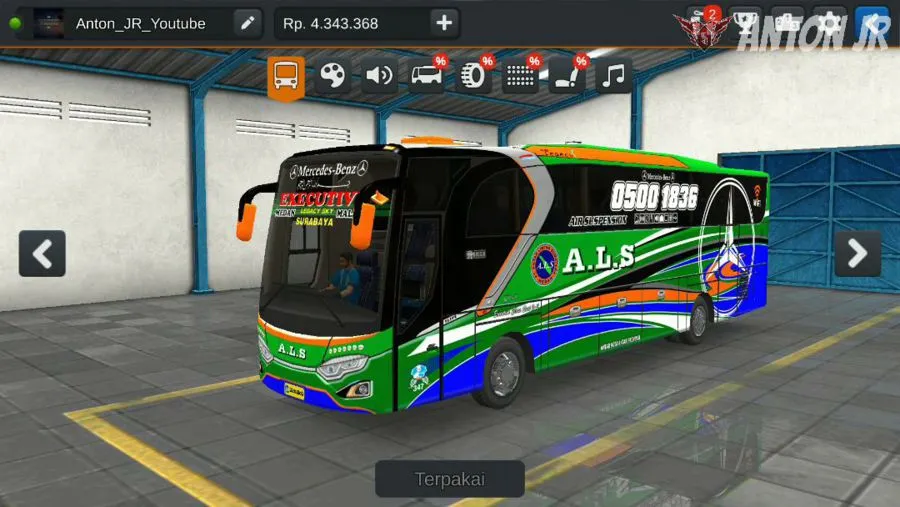 4. Aneka Jaya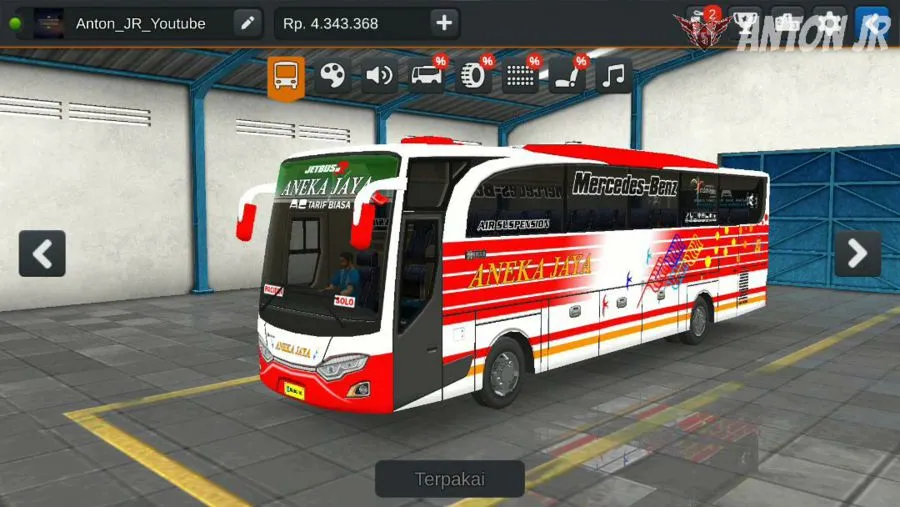 5. ANS Gorden
This is the skin version with a draperies.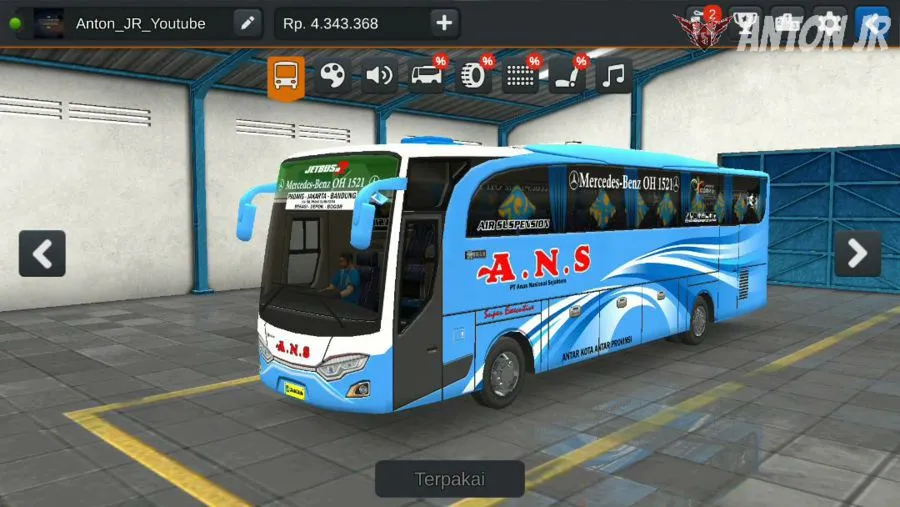 6. ANS
Same with above, but not using draperies.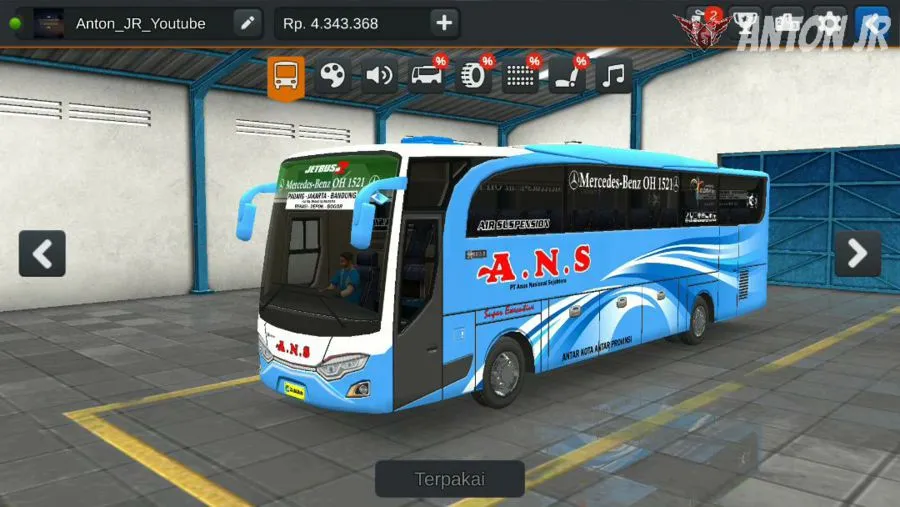 7. Antavaya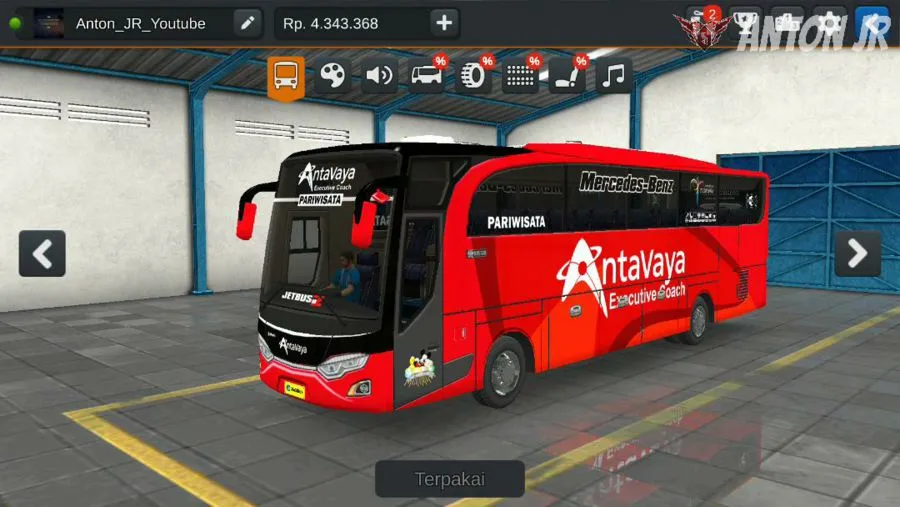 8. Arista Onion Evano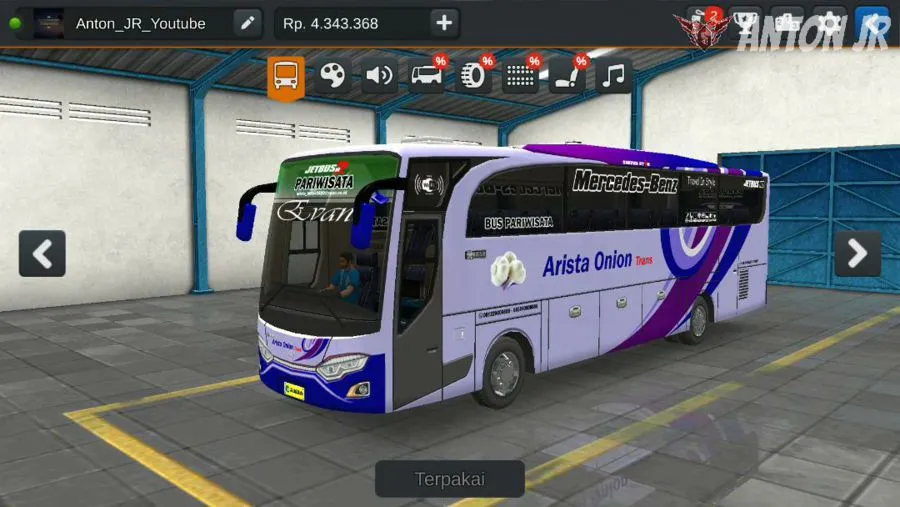 9. Arista Onion Neo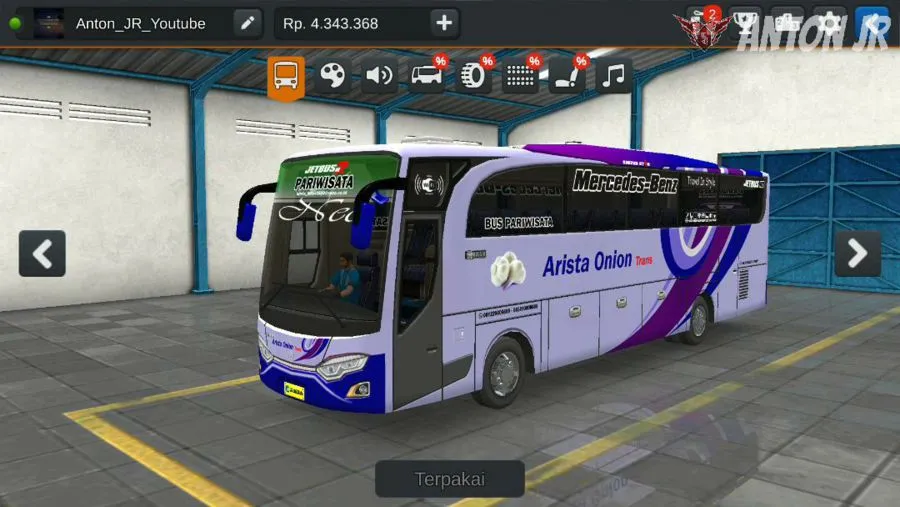 10. Armada Bumi Minang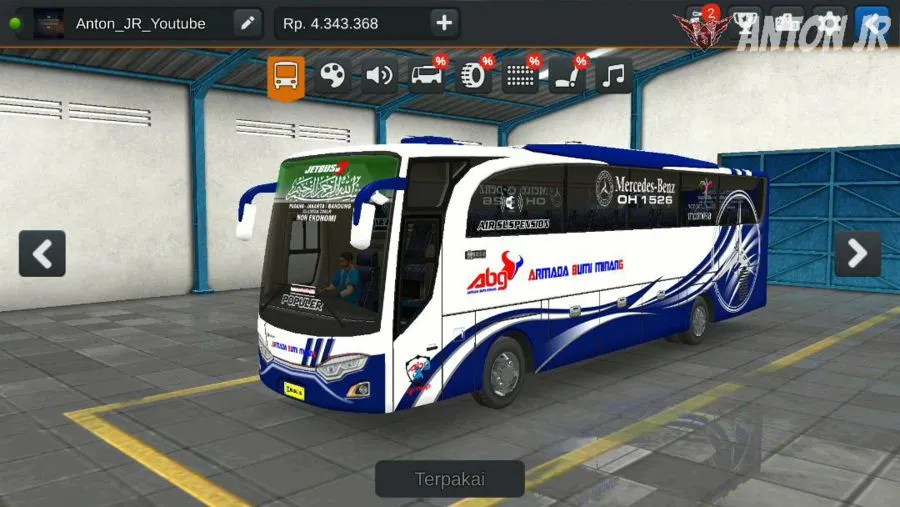 11. Balideva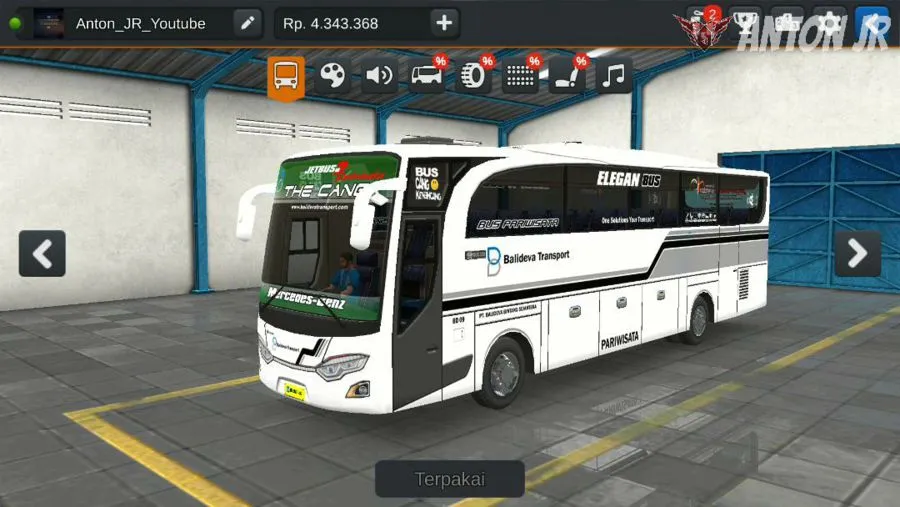 12. Bintang Kedjora Gorden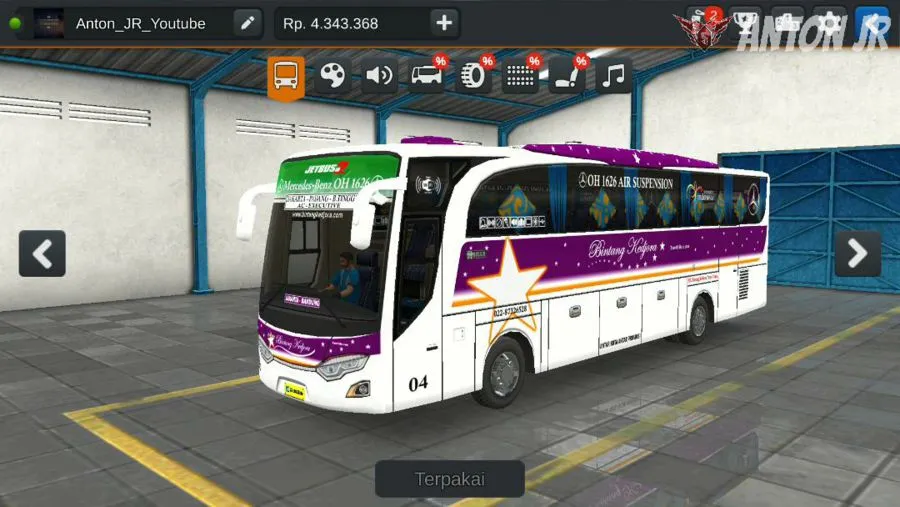 13. Bintang Kedjora Non Gorden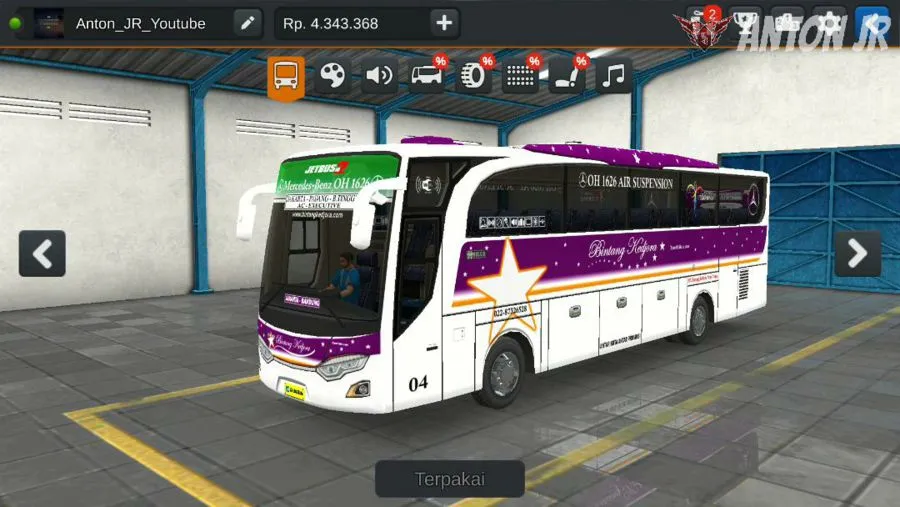 14. Bintang Mas Alhamdulillah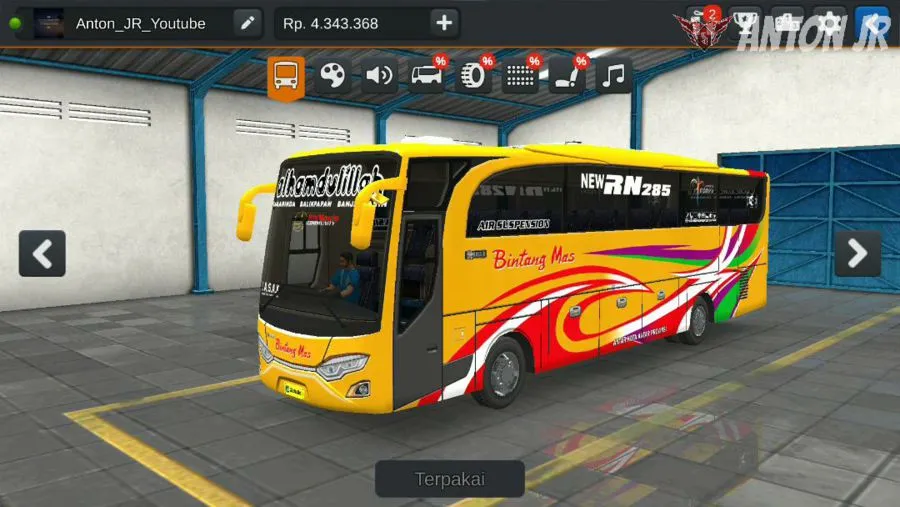 15. Bintang Mas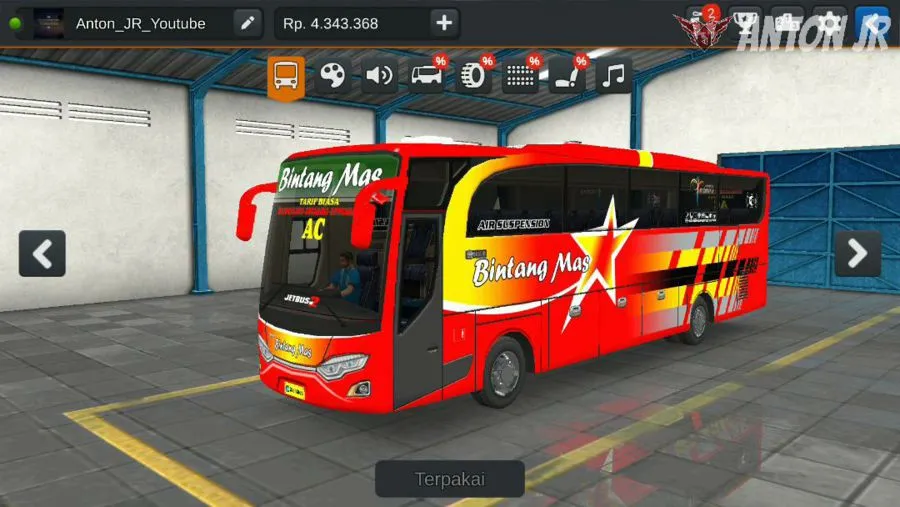 16. Borneo Trans
PT Borneo Trans Mandiri (BTM) is one of the transportation companies, especially in Kalimantan island.
Using the name Bus Borneo Trans, which provides two types of bus fleets, namely Royal Class with 24 passenger seats.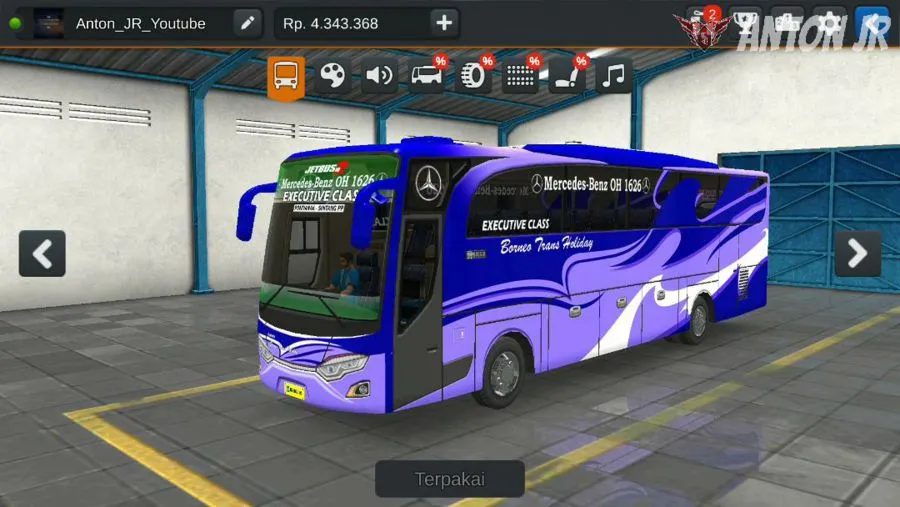 17. Brilian
Brilliant PO, the first sleeper bus in Indonesia with a short life. The bus company is from Banyumas, Central Java, and was the first originator in this country.
The bus relies on a 2013 Hino RK260 chassis wrapped in a Jetbus 2+ body from Adi Putro.
His presence in July 2016 attracted the attention of many people. This is because sleeper buses have never existed in Indonesia.
Even on the windshield of the Brilliant bus, the words 'Indonesian 1st Sleeper Bus' were emblazoned.
Even though the bus service stopped operating, PO Brilian itself still exists as a tourism bus provider. Of course with a normal bus seat configuration.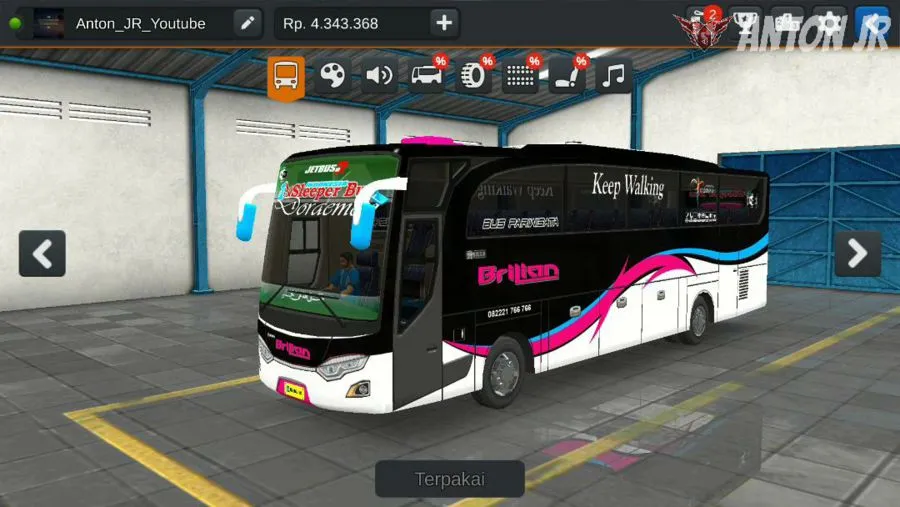 18. Budiman V2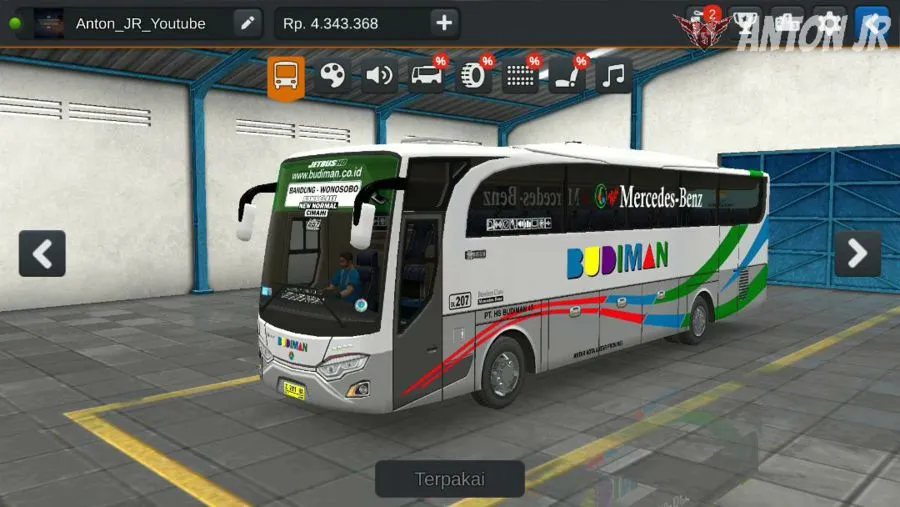 19. CAB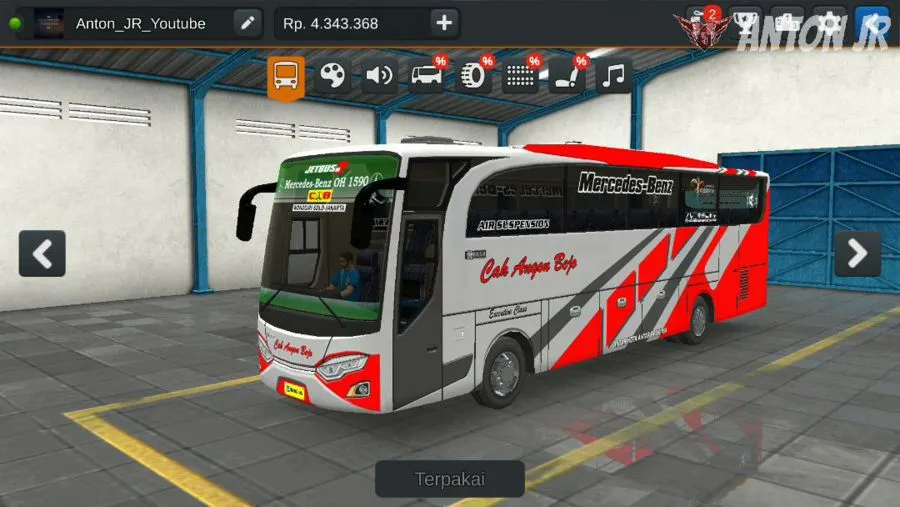 20. Citra Adi Lancar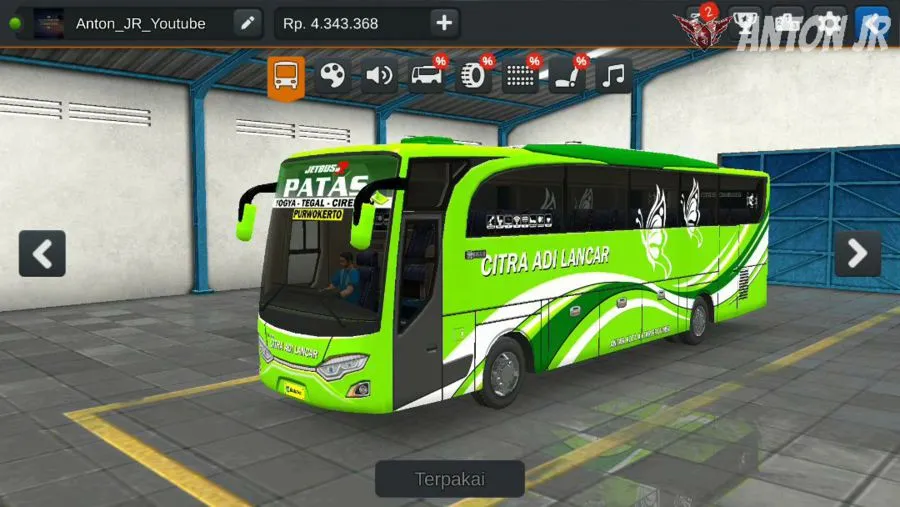 21. CSH 88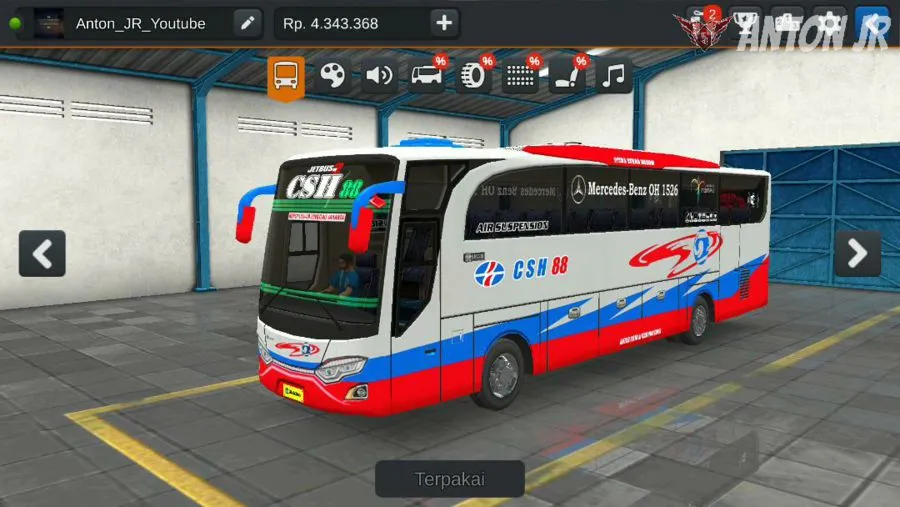 22. Dewi Sri V3
Dewi Sri was founded in Tegal City in the 1980s by H Ismail, a man from Randusanga Kulon, Brebes, Brebes who migrated to Tegal after marrying his wife Hj Rokhayah.
In the early days of its establishment, Dewi Sri operated on the round trip Tegal-Jakarta route. At that time, intercity bus competition on the Pantura route was very tight.
Together with his brother, namely "Dedy Jaya". Dewi Sri competed with "Sinar Jaya" which at that time was on the rise. No wonder the three buses often compete with each other.
In the early 2000s, Ismail handed over the baton of Dewi Sri's leadership to his son, Ikmal Jaya.
Ikmal himself has experience in managing the transportation sector, such as his success in managing urban transportation in Bumi Serpong Damai (BSD) and its surroundings.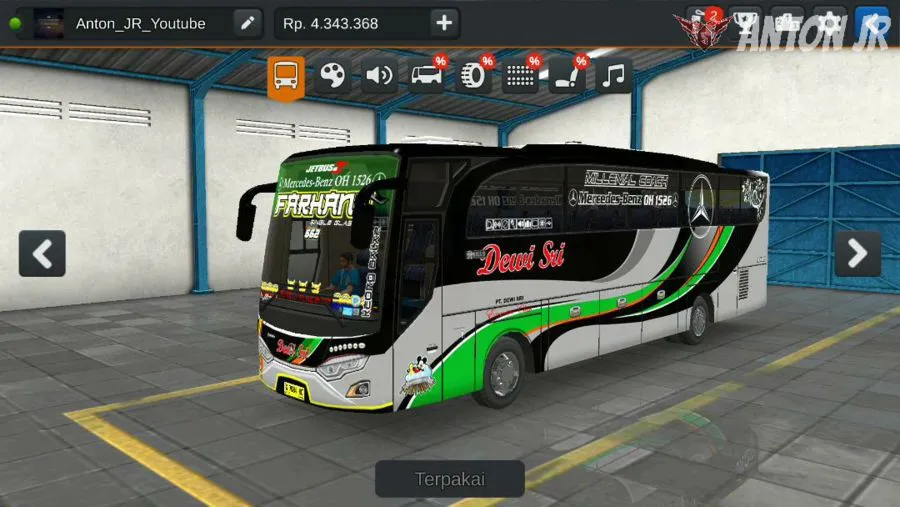 23. Dieng Indah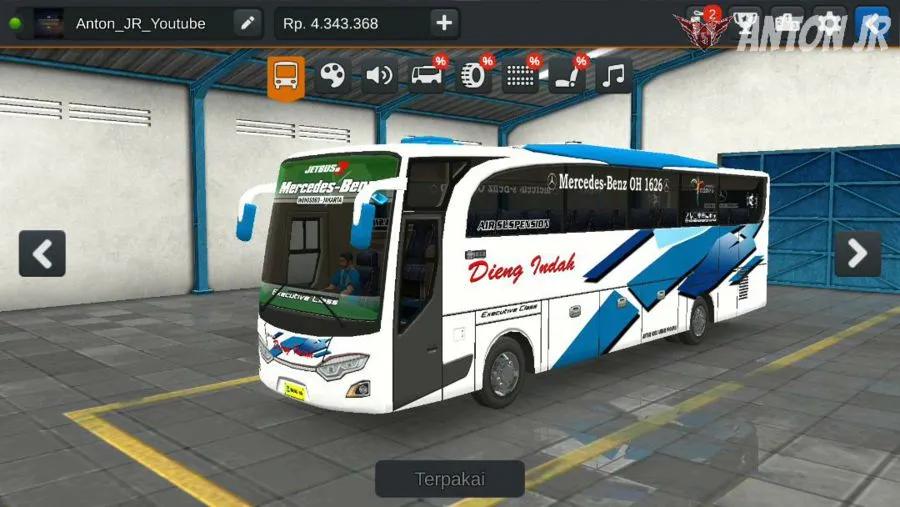 24. Doa Ibu SR1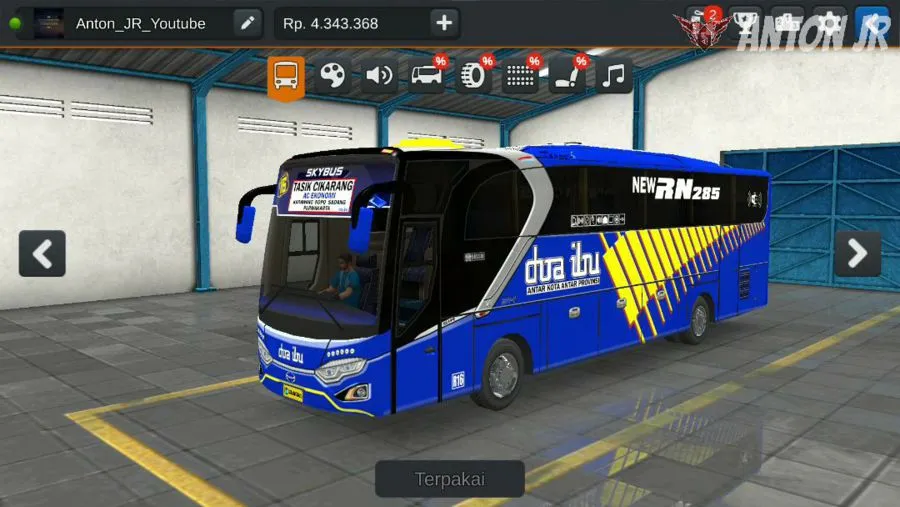 25. Duta Gemilang Gorden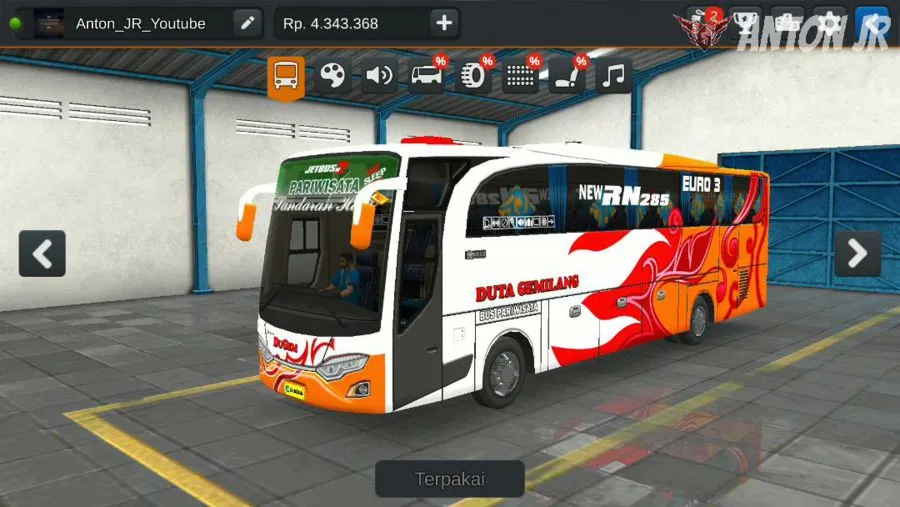 26. Duta Gemilang
27. Efisiensi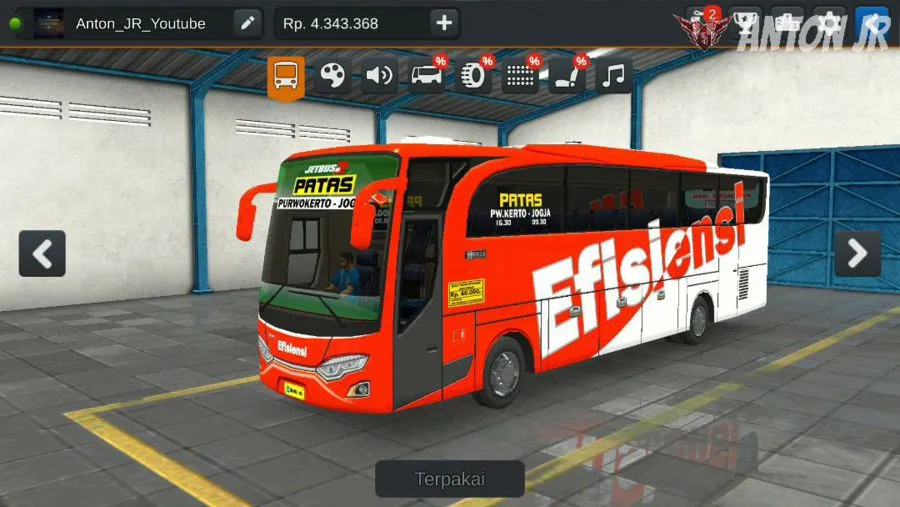 28. Family Raya Hujau
Family Raya was originally a company that provided land transportation in the form of the Bangko – Bukittinggi route, then continued to spread to the Regencies of Cities in West Sumatra such as Padang, Solok, the southern part and even Payakumbuh.
Then the Family Raya Bus route was expanded to Central Java (Pati, Solo and the surrounding area).
They also have a special unit serving the local route Jambi – Muaro Bungo, Jambi – Bangko PP.
In addition, they already have the best tourism bus fleet in Jambi with modern fleets and luxurious facilities.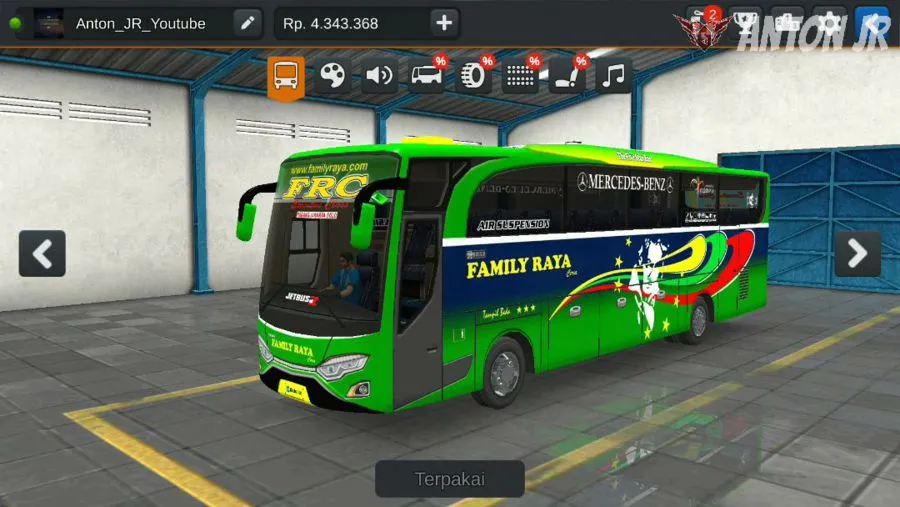 29. Gapuraning Rahayu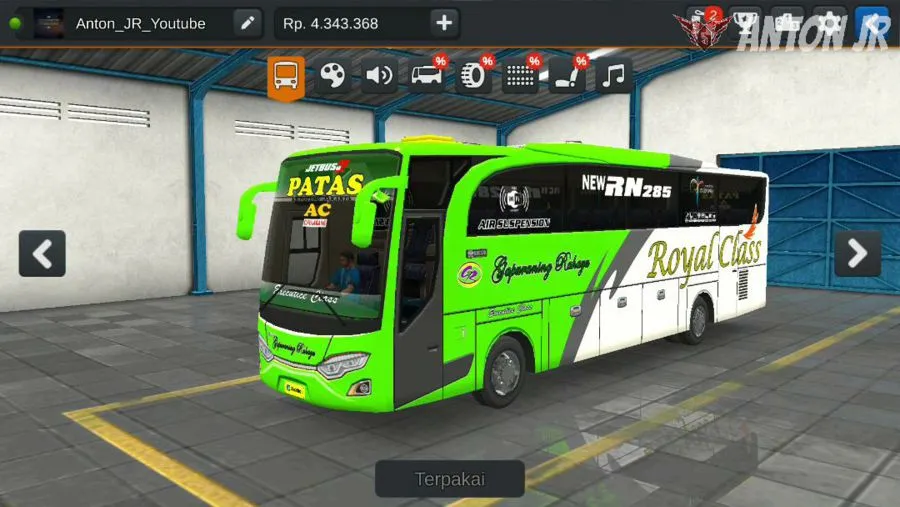 30. Garin Trans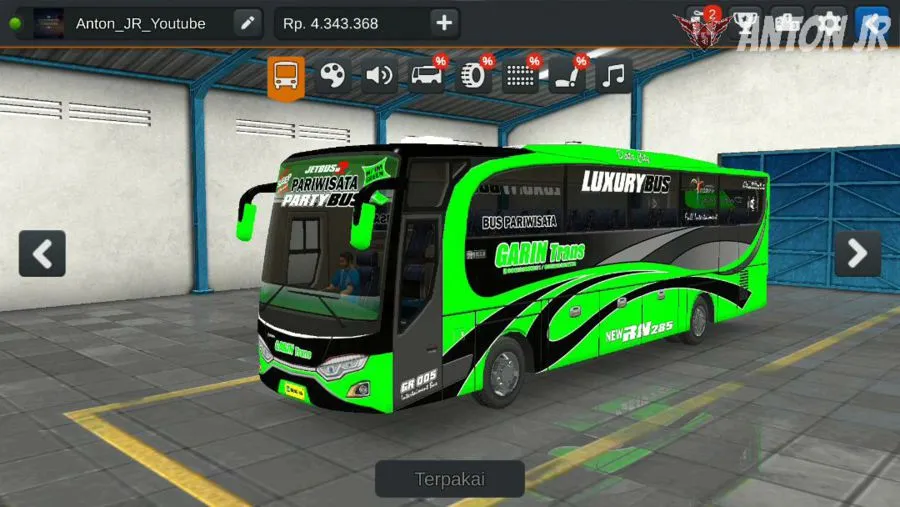 31. Garuda Mas Mahessa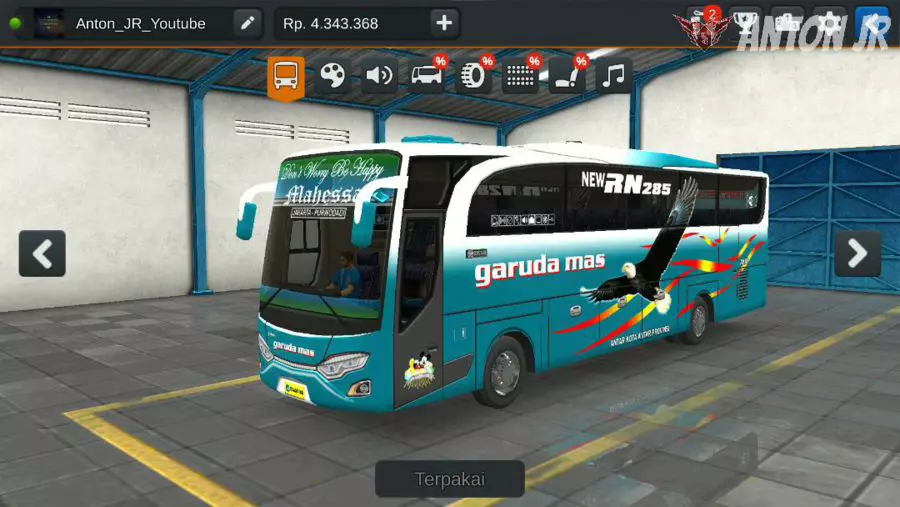 32. Gege Transport V2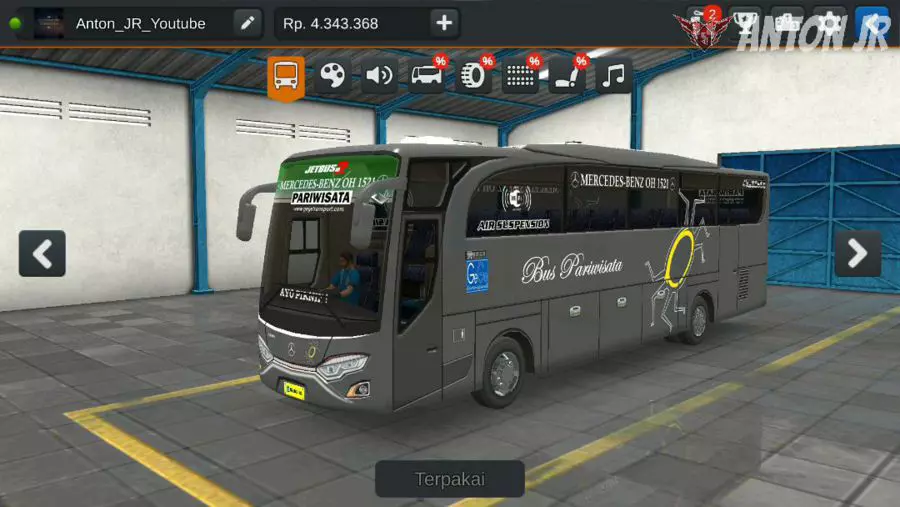 33. Goodwill Gorden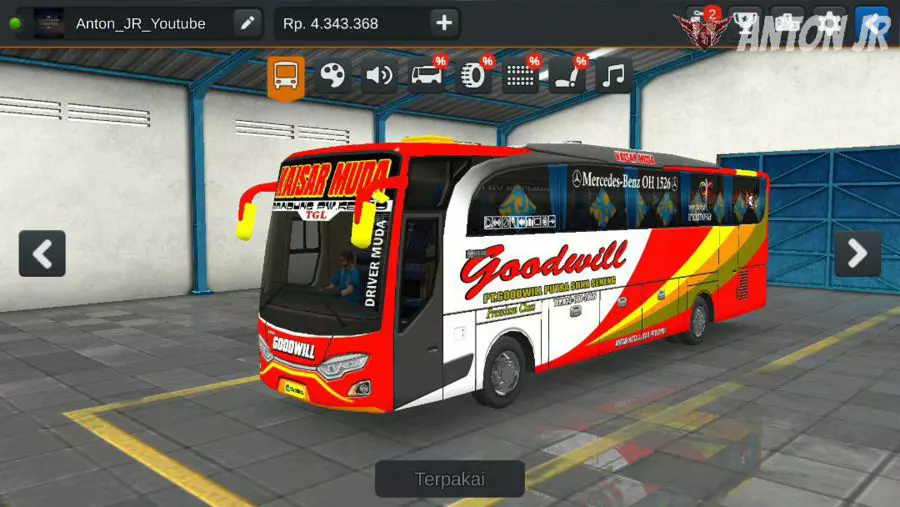 34. Goodwill
35. Gunung Harta V2
At the beginning of its establishment in 1993, the pioneered of a transportation between cities within the province (AKDP) which only served the Denpasar-Gilimanuk route.
In 1995, starting from various information and business instincts owned so that the development of the service business penetrated into inter-city inter-provincial bus transportation with assistance from the banking sector, other financial institutions as well as from the support and trust of the community, in the following years Gunung Harta continued to experience growth.
In 2004 Gunung Harta experienced development with a fleet of about 40 units with the allocation:
Denpasar – Gilimanuk PP
Denpasar – Jember PP
Denpasar – Surabaya PP
Denpasar – Malang PP
Denpasar – Solo – Yogyakarta PP
Denpasar – Semarang – Jakarta PP
Denpasar – Madiun – Maospati – Ponorogo
As well as for tourism transportation and express package delivery services
In 2006 Gunung Harta had the expansion of the Denpasar – Malang – Blitar – Tulungagung and Denpasar – Surabaya – Kediri routes, with a total of 5 fleets.
For Denpasar – Malang – Blitar – Tulungagung as many as 3 fleets and Denpasar – Surabaya – Kediri 2 fleets.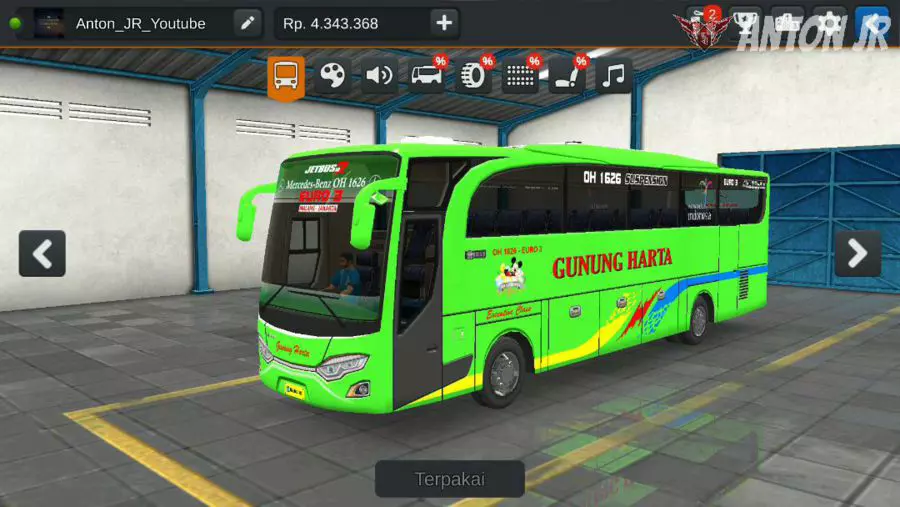 36. Gunung Mulia V2
PO. Gunung Mulia is a land transportation provider company with a fleet of buses that serve various routes from :
Jakarta
Bogor
Tangerang
Bekasi
And surrounding areas to several cities in Central Java such as :
Semarang
Ungaran
Solo
Sukoharjo
Wonogiri
Ngadirijo
Jatisrono
Purwantoro
This Otobus company was founded in 1986 with its head office located in the city of Wonogiri, Central Java.
By using various chassis variants from the manufacturer Hino RK8, Hino RG, Mercedes Benz OH 1521 and OH 1525z which are equipped with facilities that greatly support the comfort of passengers while on the trip.
Even so, the ticket prices offered are also very affordable for all people with classes ranging from Economy, VIP and Executive.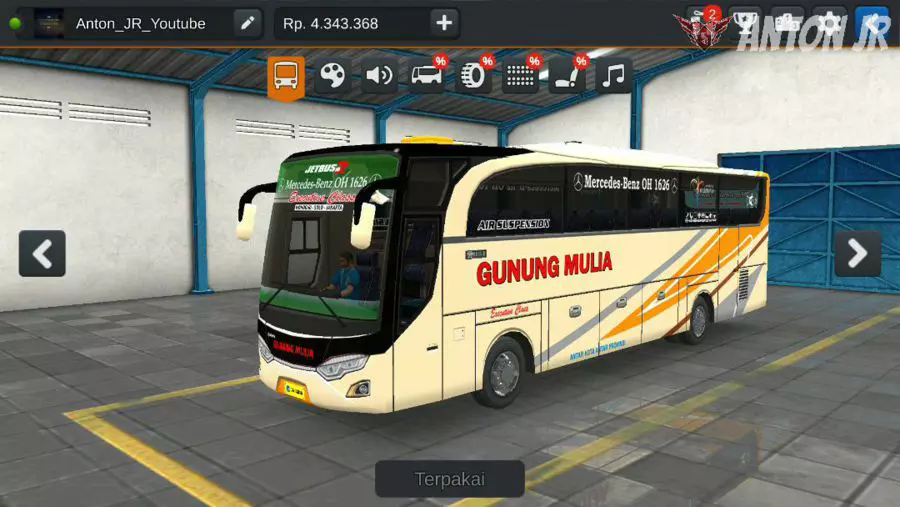 37. Handoyo SR1
The difference between the normal livery and the livery with the SR1 code is the side pillar, the #bismania often call it a scarf.
The Legacy SR-1 can be called a special edition, which is an accessory that separates the driver and passengers in the front row of seats (railing protection).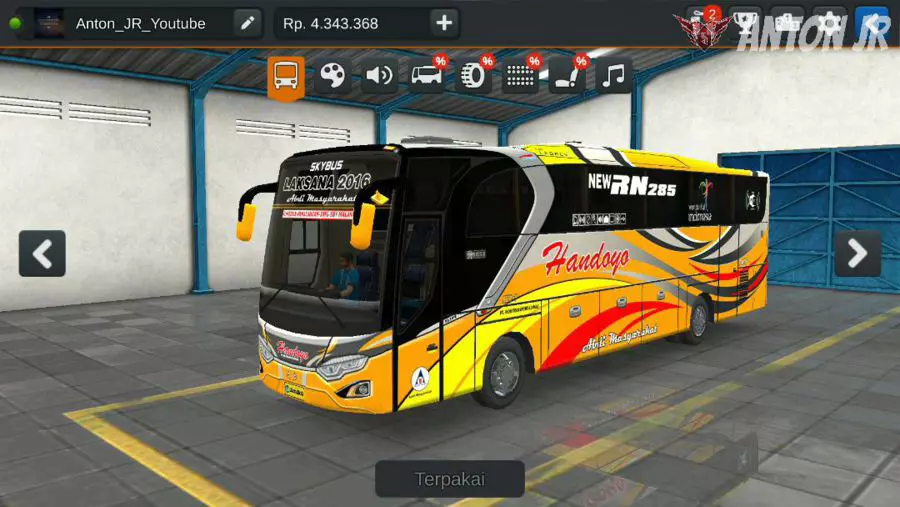 38. Handoyo
PO Handoyo has an office on Jalan Soekarno-Hatta in Magelang, Central Java. The office is also a garage for his fleet.
At the beginning of its establishment, PO Handoyo served the routes of Yogyakarta – Semarang, Magelang – Weleri and Magelang – Ngadirejo.
Please note that Handoyo Bus is one of the transportation companies that provides services to meet the needs of the community in terms of public transportation.
Handoyo buses have inter-provincial and inter-city routes as well as between islands, namely the island of Java and the island of Sumatra. The Java Island route is from Jakarta to Malang.
PO Handoyo was founded in 1975 by the great entrepreneur, Dibyo Wibowo. And the name "Handoyo" itself is taken from the name of his son Daniel Handoyo.
PO Handoyo is under PT PT Indo Transport Abdimas and is managed directly by Daniel Handoyo.
With his time and experience in the world of night buses, PO Handoyo has earned the nickname the king of the streets from the Tidar Valley of Magelang in Central Java.
Even in difficult times, PO Handoyo had time to acquire other POs such as Mandala from East Java who joined the Handoyo Group.
Handoyo buses have a fleet of VIP, Economy, Patas, AC and AC economy classes that use bus chassis from Hino such as AK and RK as well as Mercedes-Benz chassis.
To build the bus, Handoyo often uses the services of bodybuilders from New Armada, Laksana, Rahayu Santosa and Adi Putro.
Now PO Handoyo serves the Jakarta-Yogyakarta-Klaten, Surabaya-Cirebon and Jakarta-Wonogiri routes.
PO Handoyo has also collaborated with bus companies to Malang. The destinations from Malang are Cirebon, Yogyakarta, Wonosobo, Purwokerto, Semarang and Magelang.
For the purpose of the Java route, the types of buses used are AC, Patas and executive buses serving the routes of Jakarta, Klaten, Solo, Wonogiri, Gemolong, Pracimantoro, Pulo Gadung, Bekasi, Semarang, Kudus, Pati, Tangerang, Temanggung, Magelang, Kali Deres. and Tirtomoyo.
39. Harapan Jaya Gorden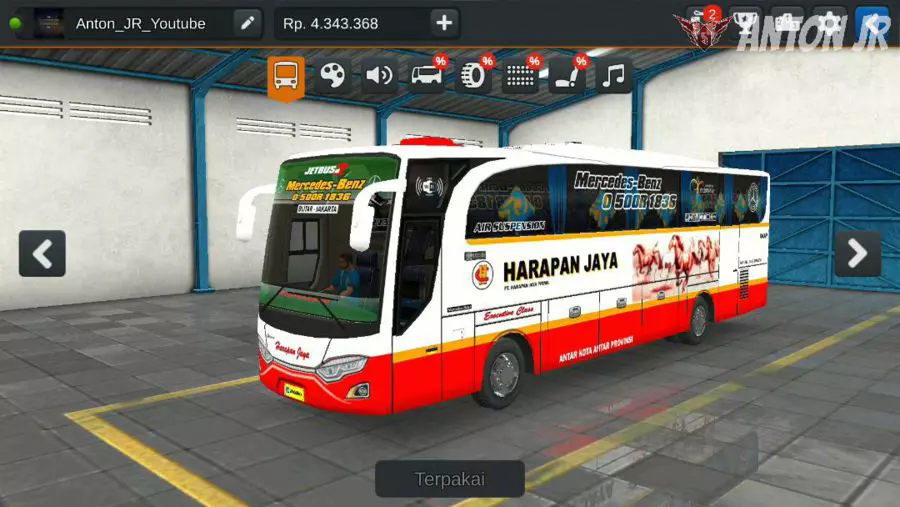 40. Harapan Jaya V2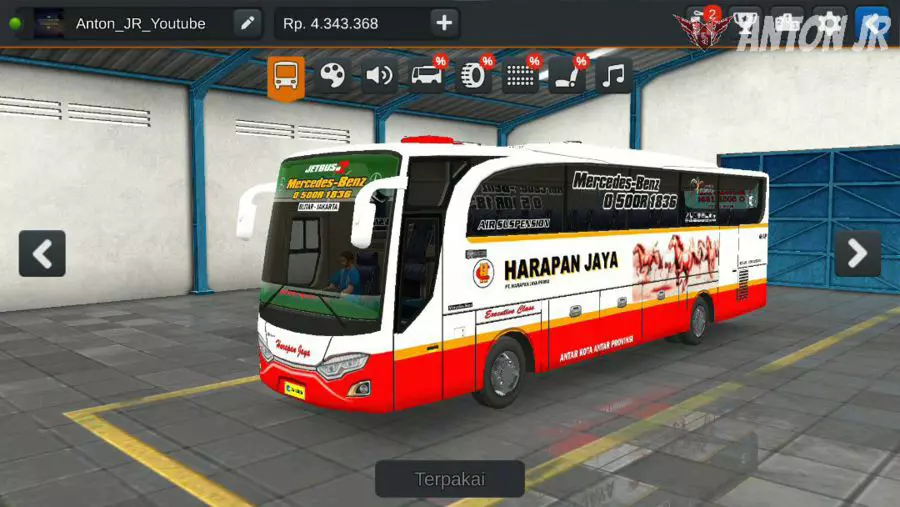 41. Haryanto 007 Vanttagio Gorden
PO Haryanto Haryanto is one of the best bus companies (PO) in Java.
The service quality of this transportation mode provider from Kudus, Central Java is evidenced by the achievement of an award from the Indonesian Ministry of Transportation for the non-economic AKAP Bus category in 2019.
Haryanto was pioneered in 2002 by H. Haryanto. Haryanto started its operations with an initial capital of six buses serving the Cimone – Cikarang route.
Due to lack of interest, Haryanto opened new routes, namely Jakarta – Kudus, Jakarta – Pati, and Jakarta – Jepara. Since then, the routes served have continued to expand to cover various areas in Java and Madura.
In addition, Haryanto also serves route tickets to Sumatra, in collaboration with NPM otobuses company, which is one of the bus companies in Sumatera island.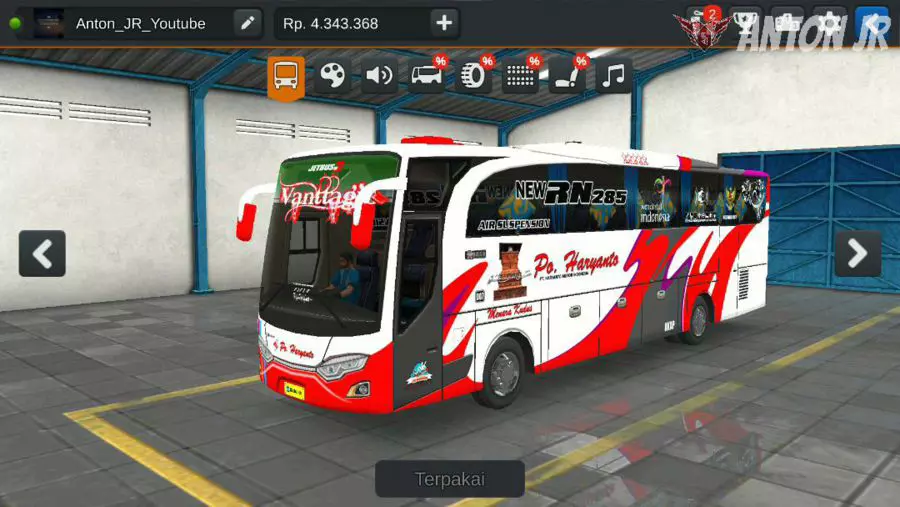 42. Haryanto 007 Vanttagio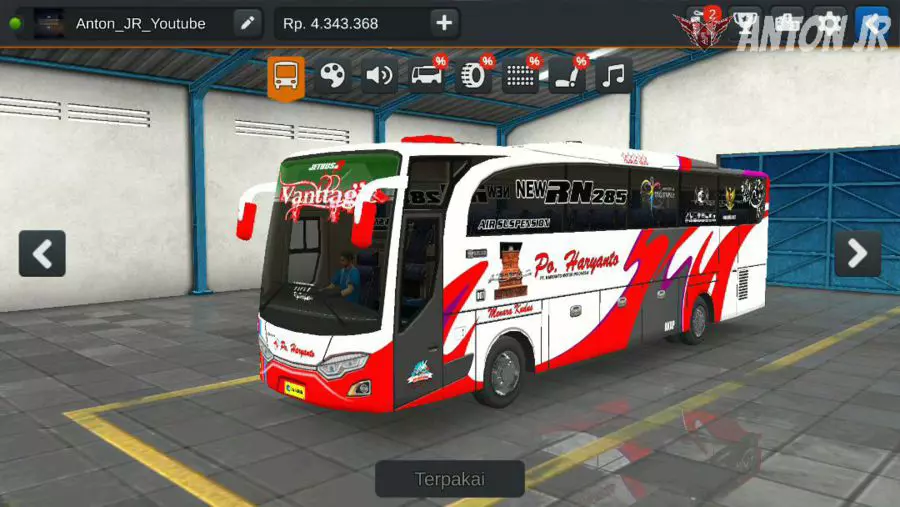 43. Haryanto 009 Sadewa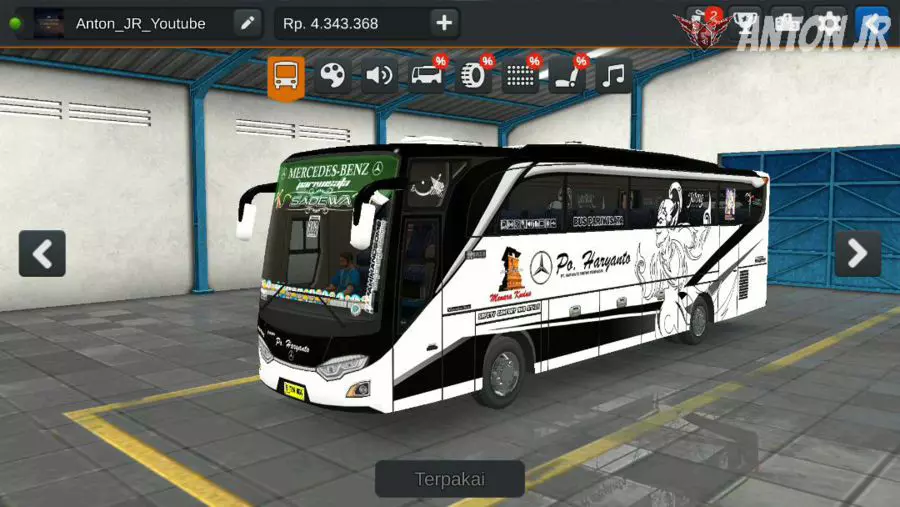 44. Haryanto 014 Arjuna v2
45. Haryanto 014 Arjuna
46. Haryanto 022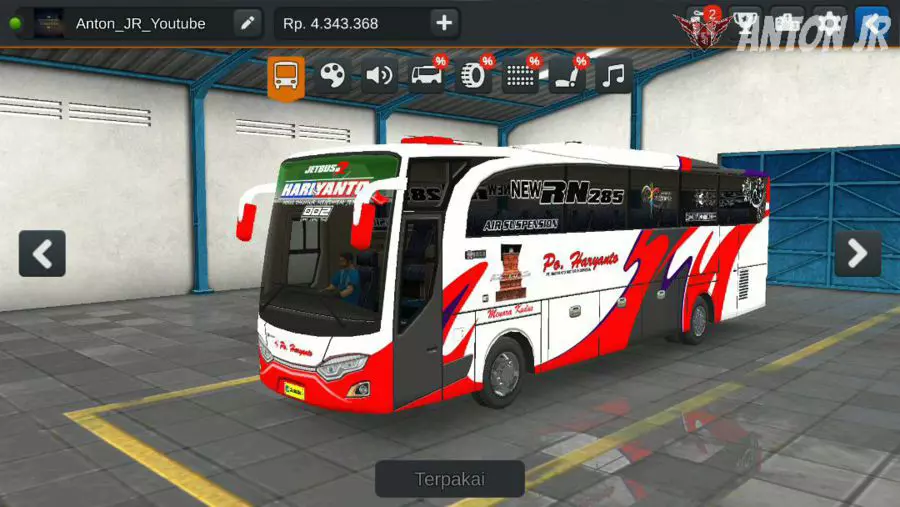 47. Haryanto 136 Kanjeng Guru Gorden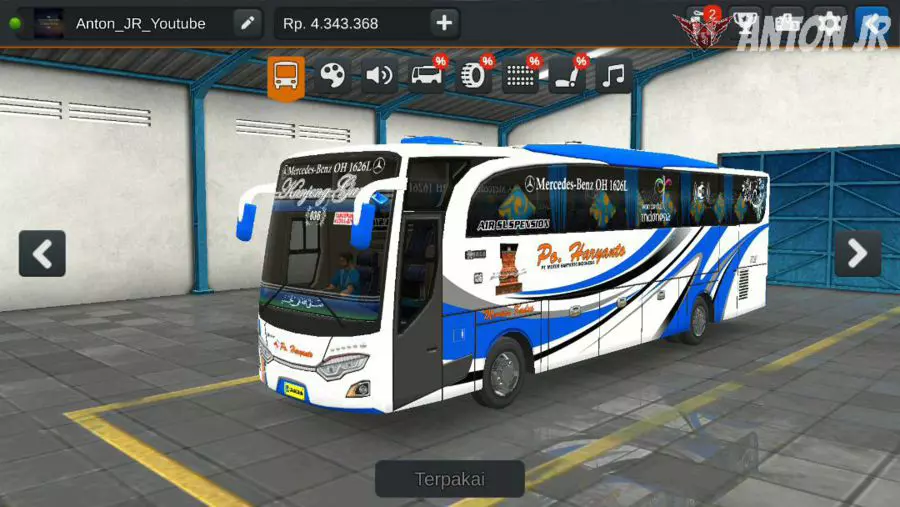 48. Haryanto 136 Kanjeng Guru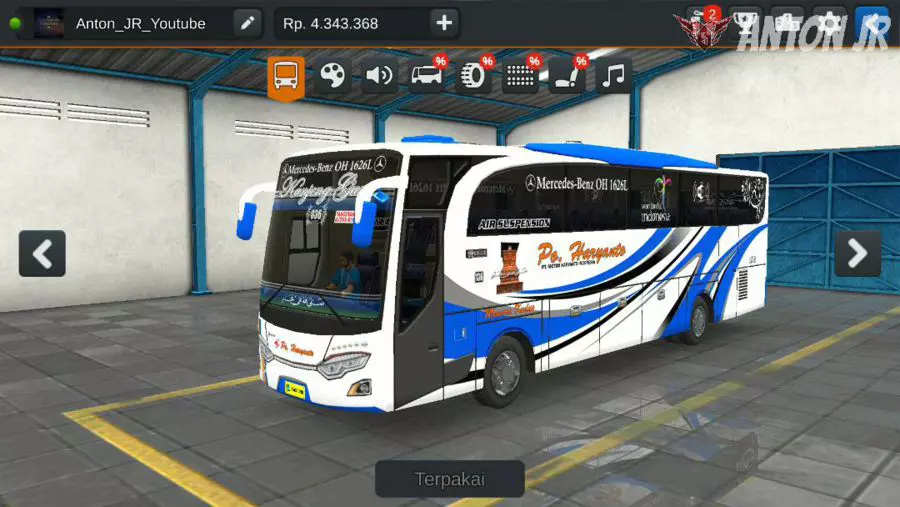 49. Haryanto 202 Al Zahwa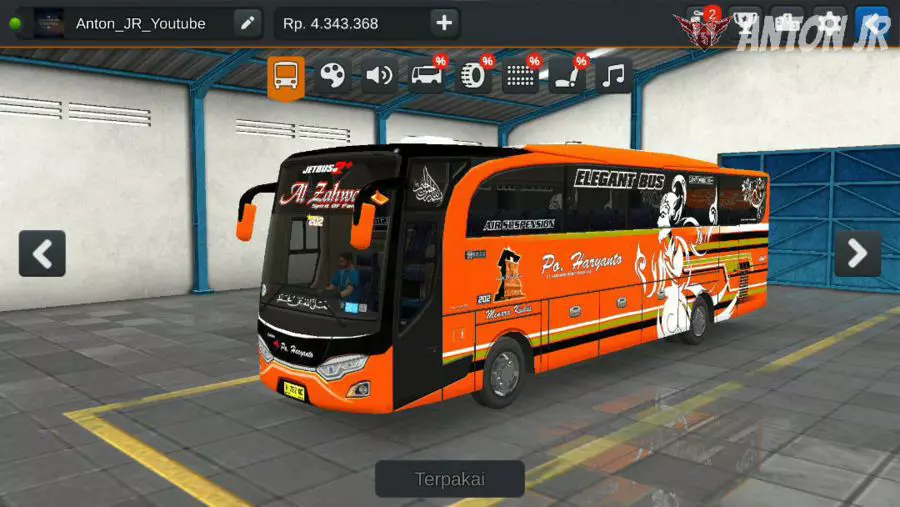 50. Haryanto 26 Hanoman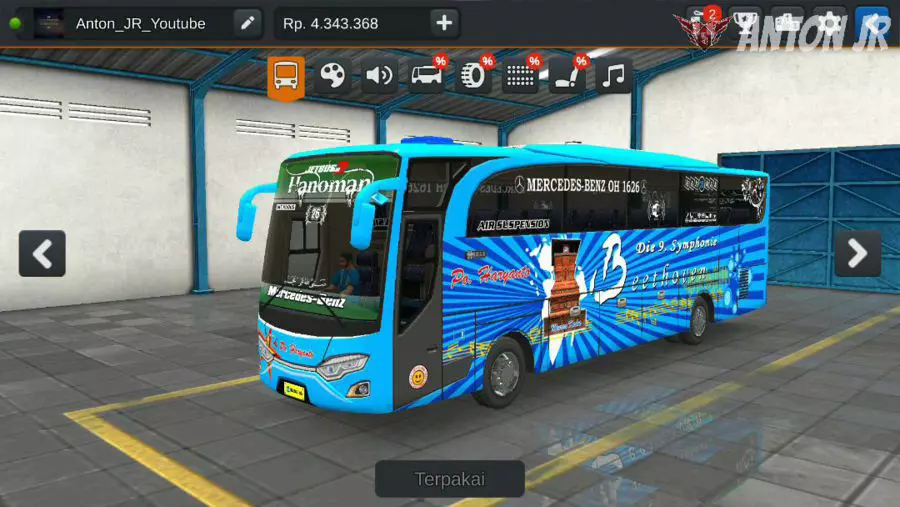 51. Haryanto 93 New Tattoo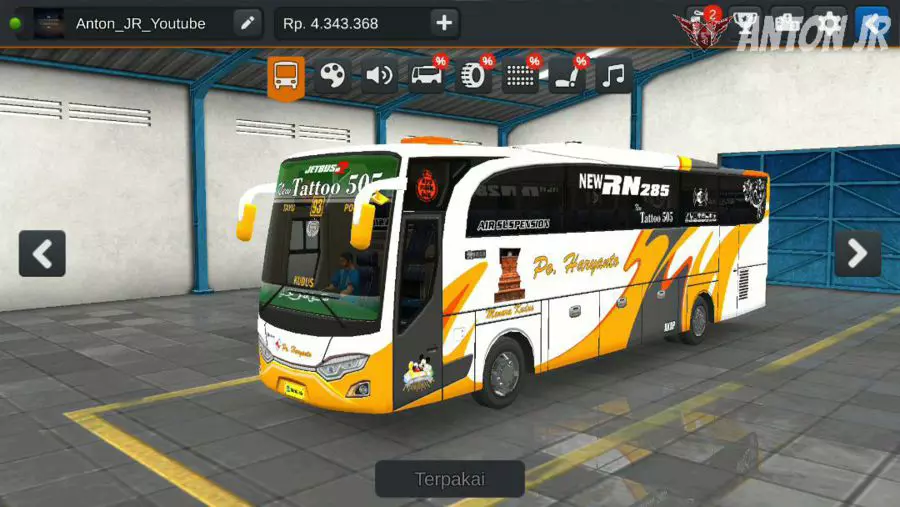 52. Hasyim Asyari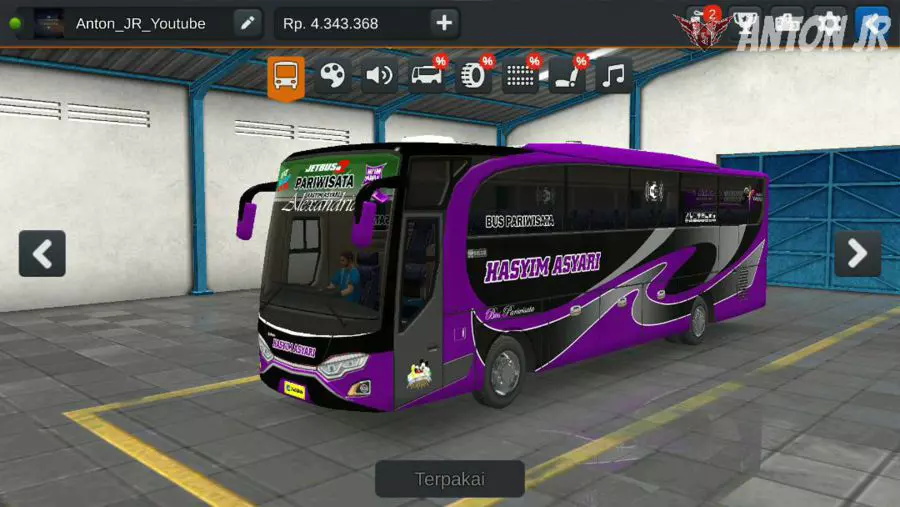 53. HUT RI 76 Polos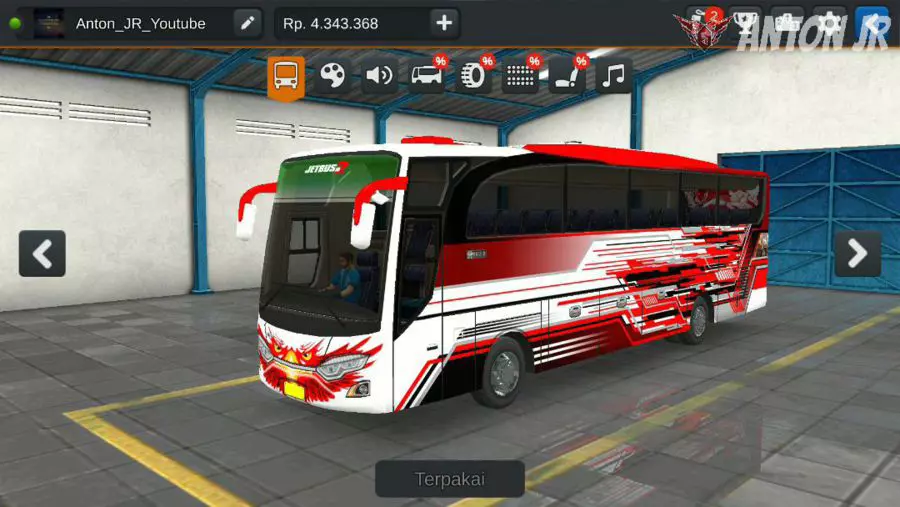 54. HUT RI 76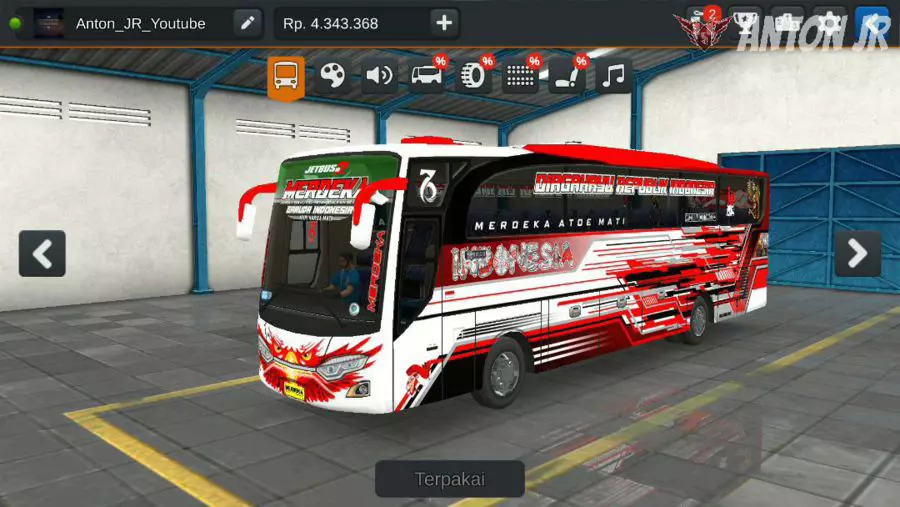 55. Ivan Motor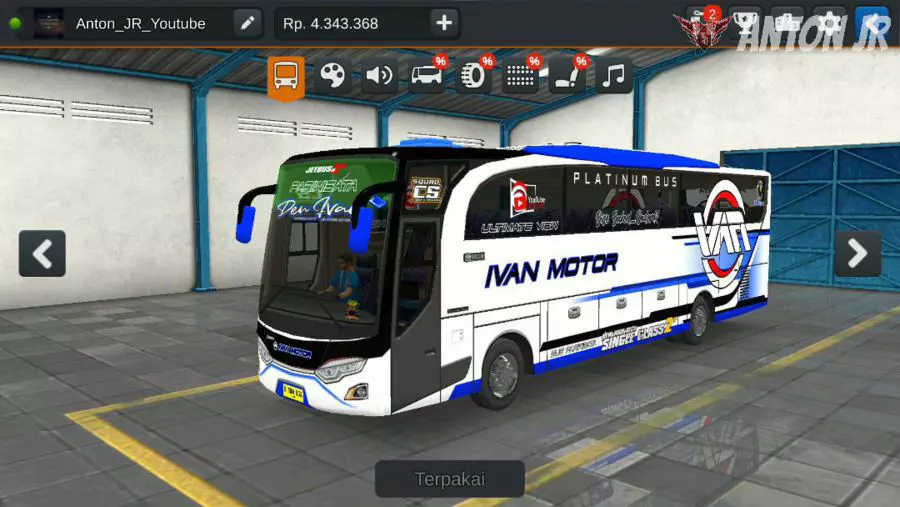 56. Jackal Holidays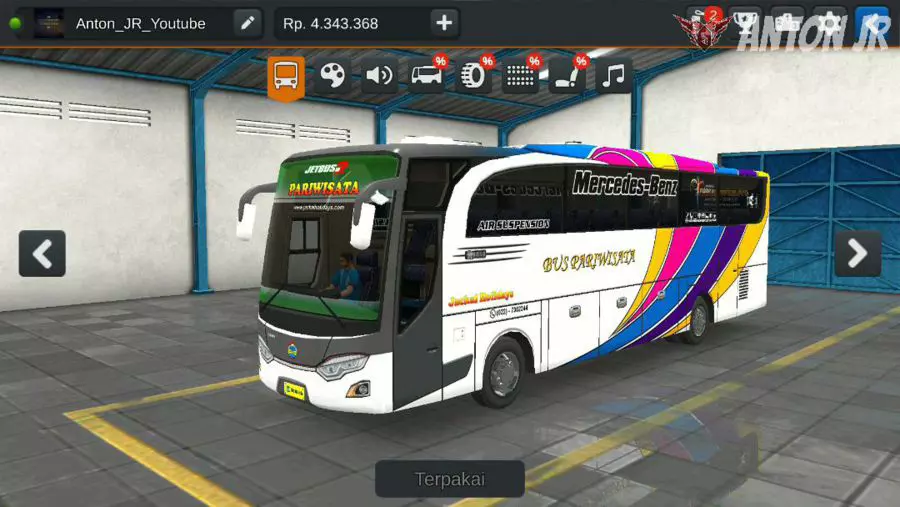 57. Jaya Reog
PO Jaya is a bus company from Ponorogo, East Java. This Jaya bus has two types of fleets, namely Jaya 1 which is yellow and Jaya 2 which is white.
The hallmark of the Jaya Kuning bus can be seen on the head, which always has green, white, red colors which at first glance resemble the Italian flag.
Then on both the left and right sides there are chess sticker patterns.
58. Koswara Trans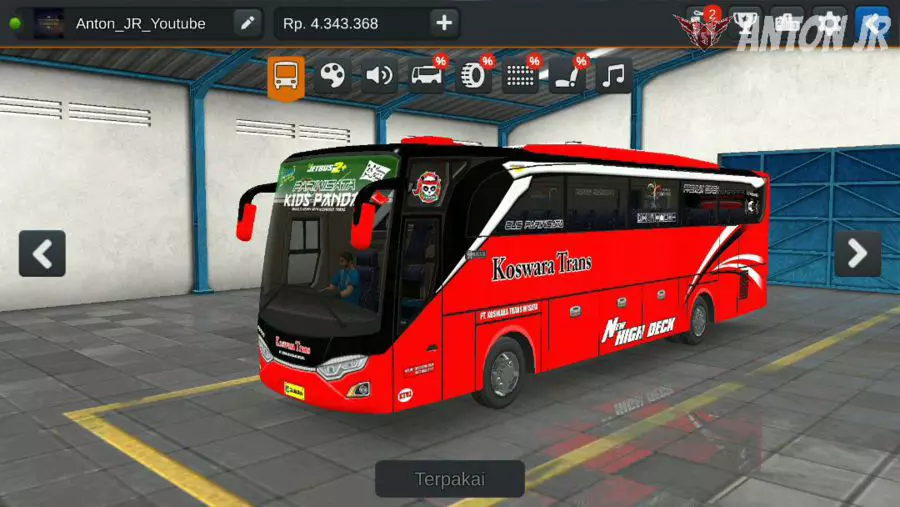 59. Lestari Muda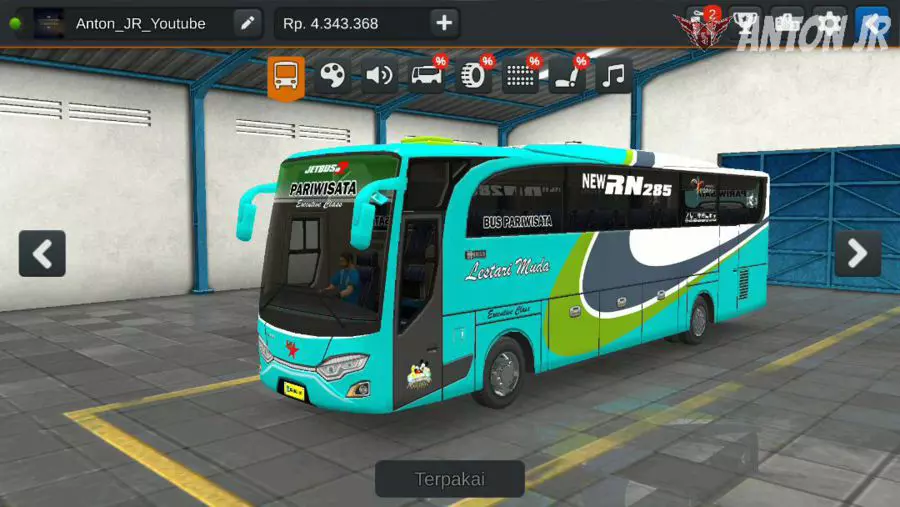 60. Maju Lancar V2
Maju Lancar is the pride of the people of Gunung Kidul, PO Maju Lancar has been established since 1986 by H. Sutrisno and Hj. Sri Hartati.
PO Maju Lancar is a passenger and freight transportation service company headquartered in Gunung Kidul, Yogyakarta.
Currently, Maju Lancar buses have 64 units of fleet operating, and Maju Lancar buses serve a variety of new routes such as Wonosari-Palembang and Wonosari-Bandung.
The Maju Lancar bus schedule also serves Yogyakarta trips to Jakarta, Bekasi, Bogor, and finally the Maju Lancar bus to Tangerang.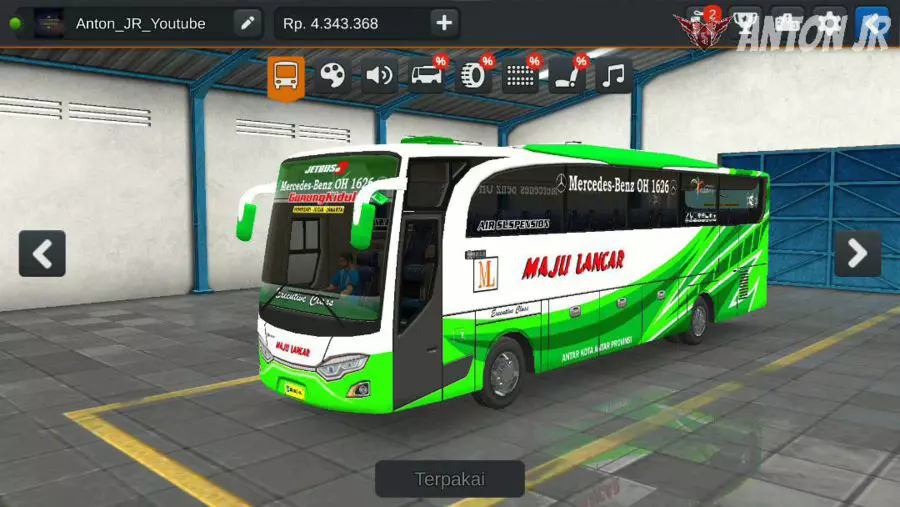 61. Maju Terus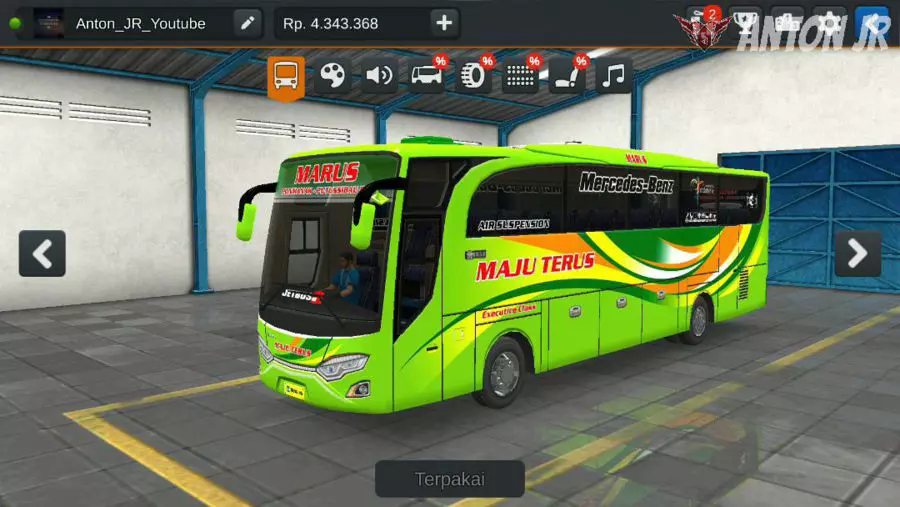 62. Makmur
Bus Makmur is the brother of Bus Halmahera which is a PO Bus from Medan. Both of them serve land transportation trips.
The Makmur Medan bus travels from North Sumatra, to be precise from Medan to several provinces on the island of Sumatra itself.
Makmur buses use engines from Mercedes Benz O500R or OH 1836 which are now also used by many other bus fleets in Indonesia.
The product is indeed very stubborn and durable because it is included in the latest product category.
Each car body is competing to show its best work compared to the Mercedes Benz OH 1836 chassis, such as the Adi Putro Malang body.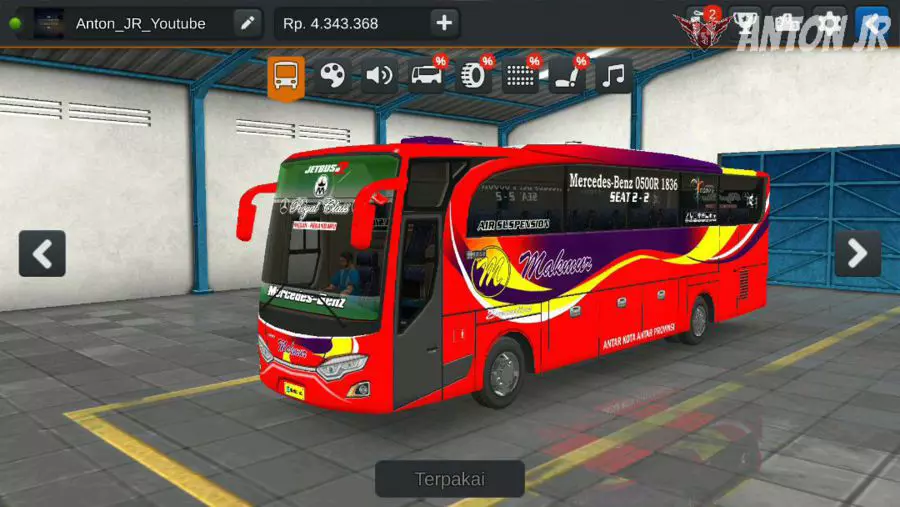 63. Malika Wisata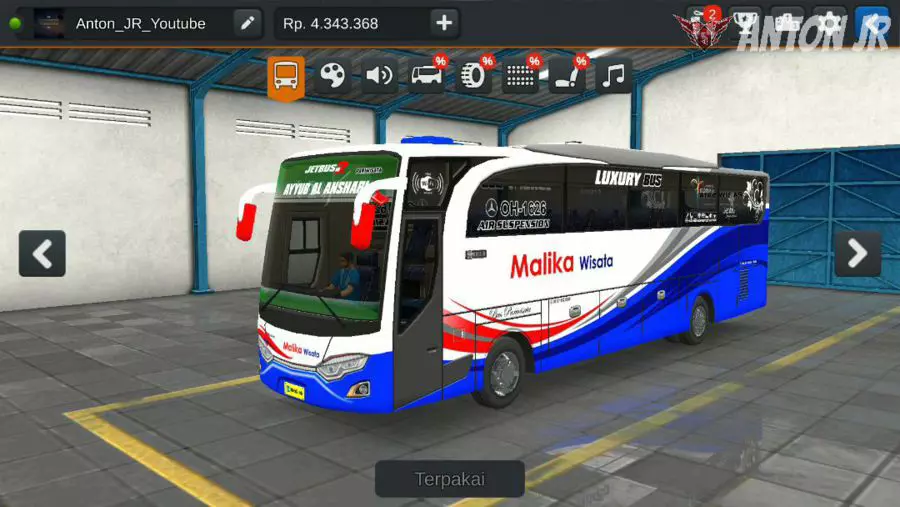 64. Manattan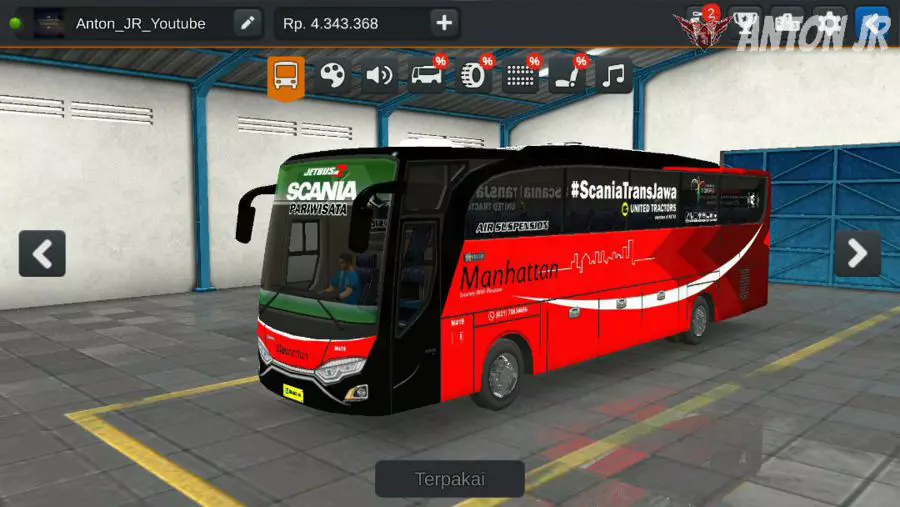 65. Manggala Trans Biru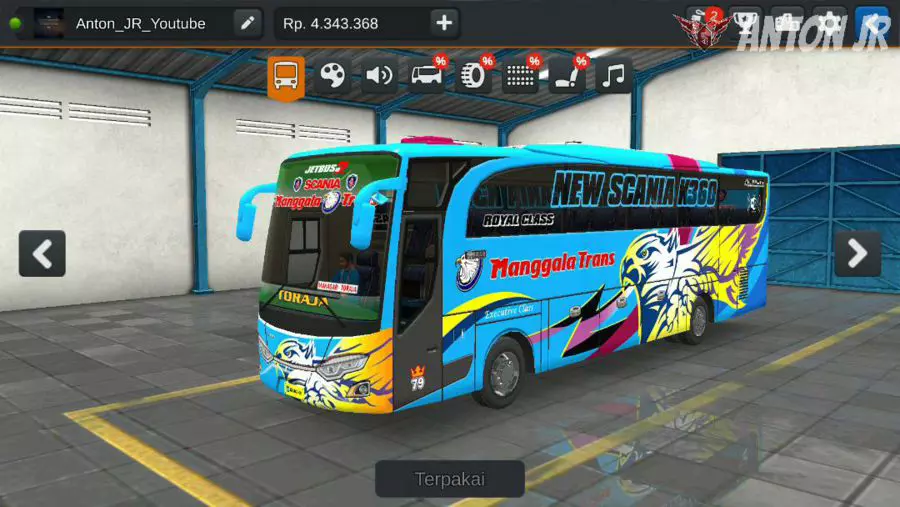 66. Marissa Holiday Gorden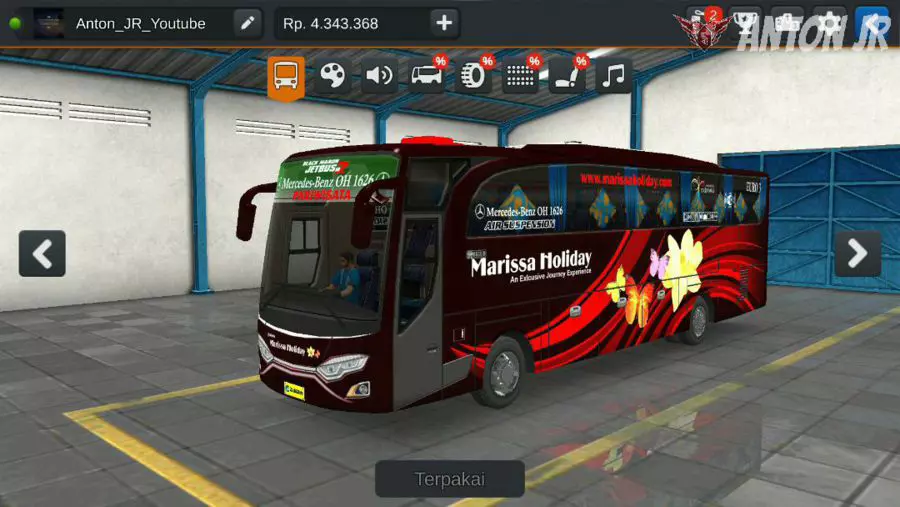 67. Marissa Holiday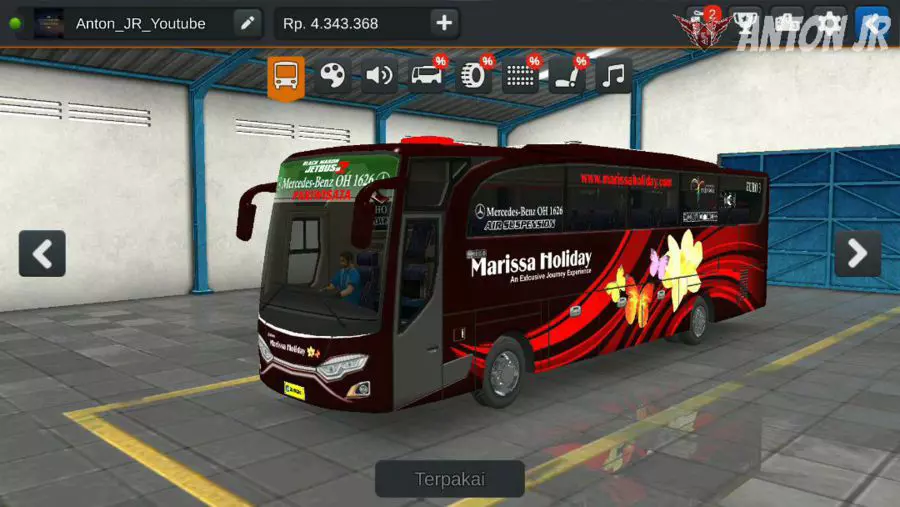 68. Mata Trans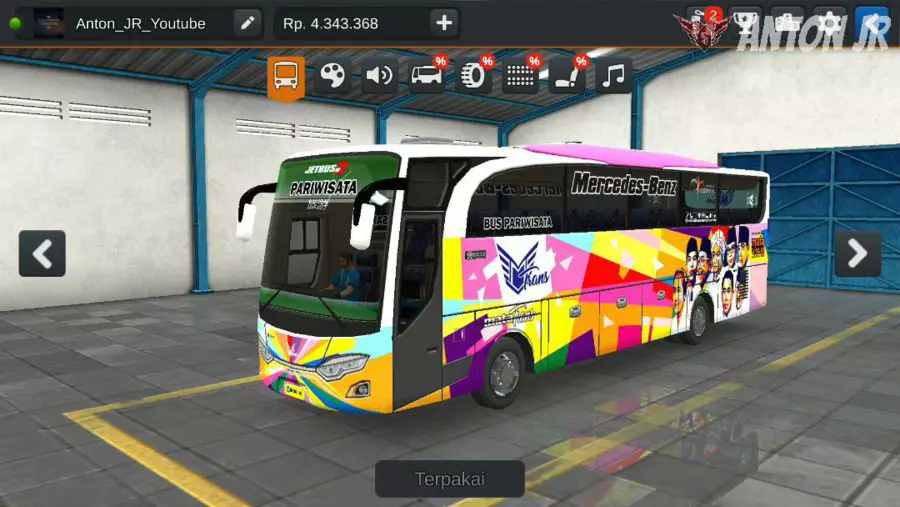 69. Merdeka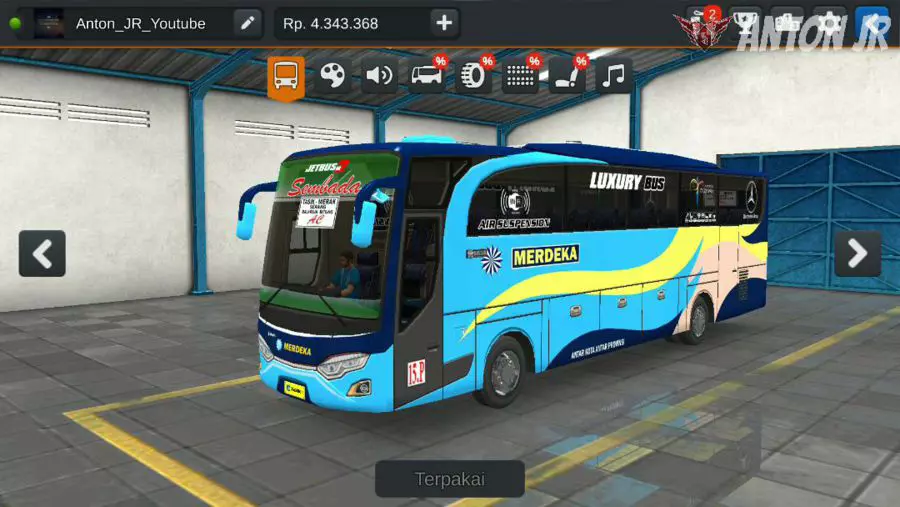 70. Muji Jaya
PO Muji Jaya was present as the first bus company in Jepara on August 5, 1991. With the MD code taken from the name of its founder, H. Murdi, Muji Jaya Bus started its operations by serving the Jepara–Jakarta route.
Now, Muji Jaya's services have been expanded to cover Greater Jakarta, Central Java and Bali, making it one of the best choices for intercity and interprovincial travel.
The Muji Jaya bus comes in the VIP Executive class with 32 seats configured 2-2 from Hai Rimba Kencana. The PO Muji Jaya fleet uses reliable Mercedes and Hino RK engines.
Muji Jaya has also released 3 units of Adiputro body buses which are planned to be operated as AKAP Muriaan buses (buses operating in the Gunung Muria area) with the Jakarta–Jepara route.
The routes that passengers are most interested in for the Muji Jaya Bus are:
Semarang – Tangerang
Karawang – Pati
Bekasi – Kudus
Tangerang – Kudus
Bogor – Pati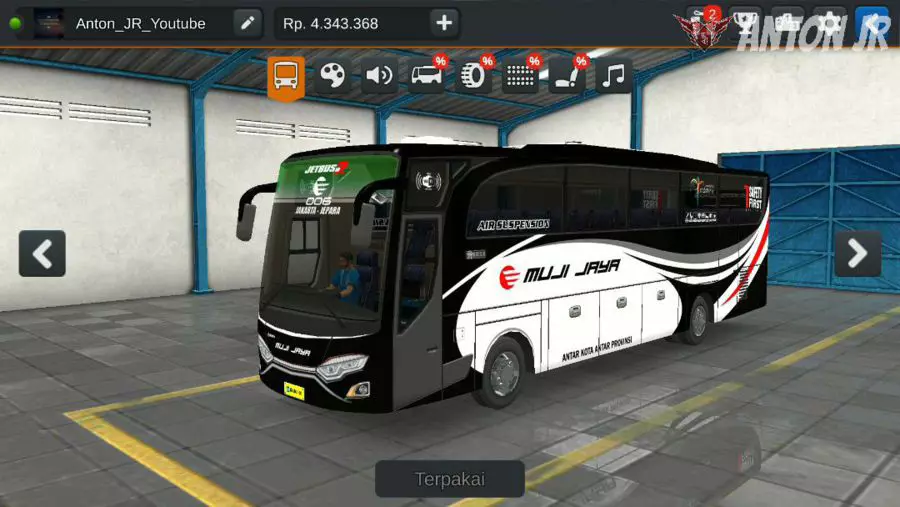 71. Murni Jaya Discovery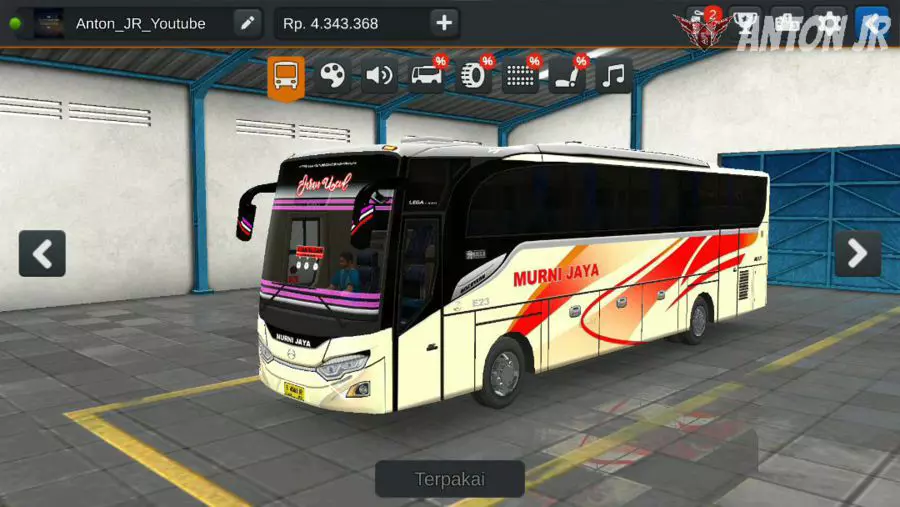 72. New Damri SR1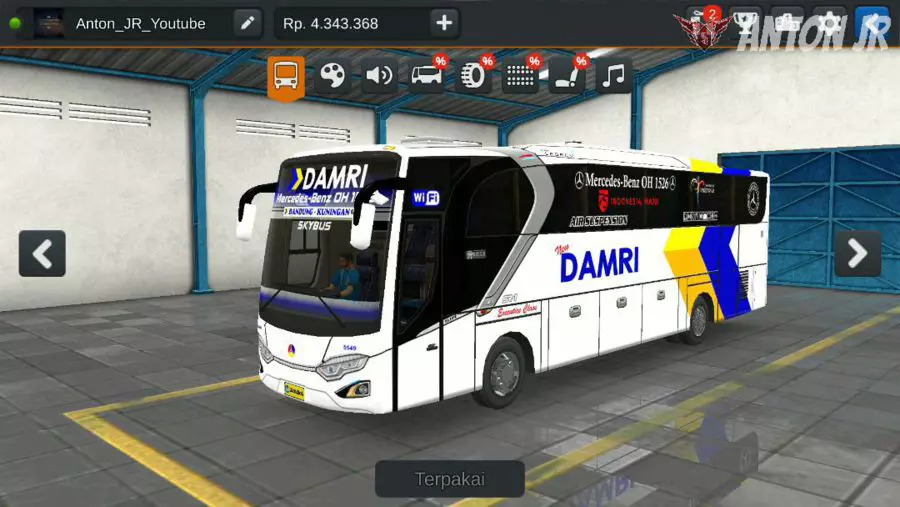 73. New Damri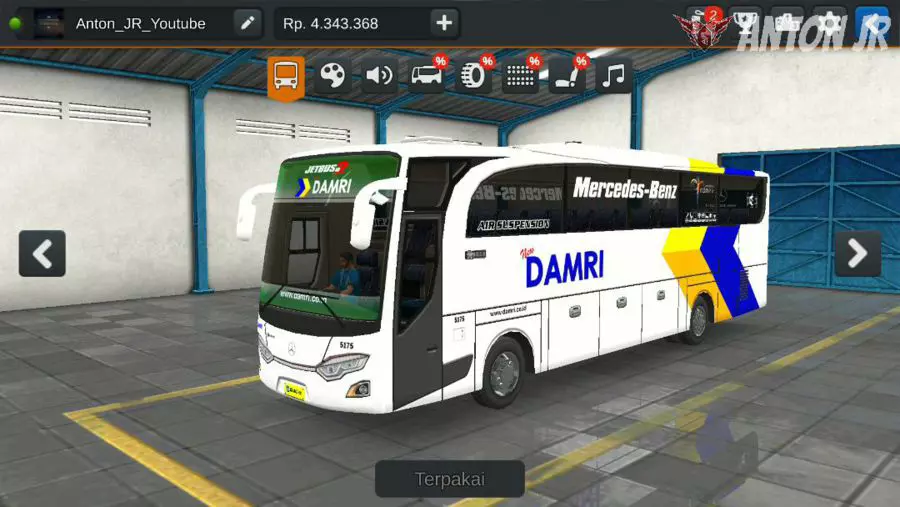 74. New Shantika Elegance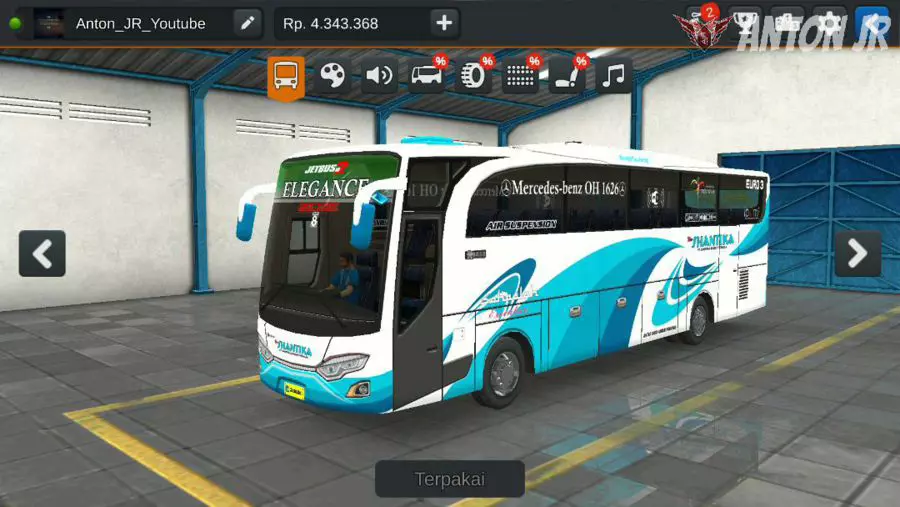 75. New Shantika Elegant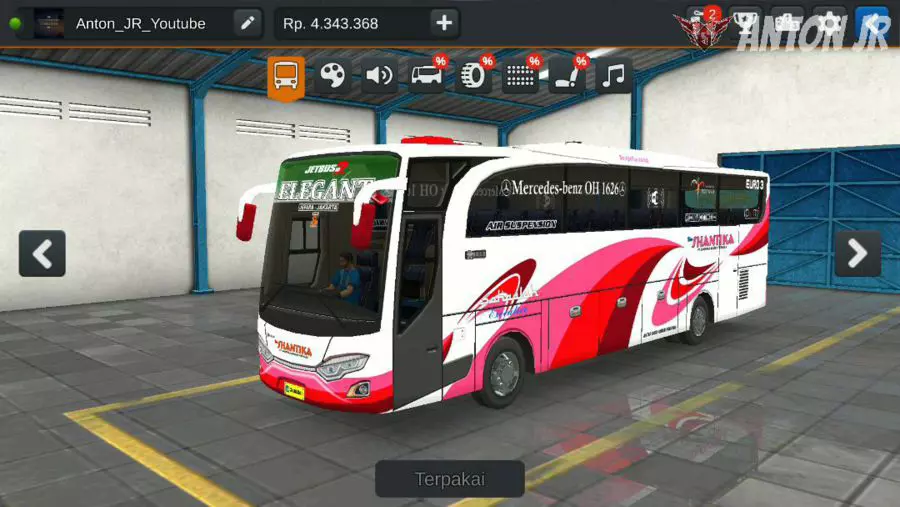 76. NPM V2
Do you know which bus company (PO) is the oldest in Indonesia? The answer is Naikilah Perusahaan Minang or better known by the abbreviation name NPM.
This transportation service company was founded since the Dutch colonial era in 1937 by Bahauddin Sutan Barbangso Nan Kuniang. The beginning of his business was from a bendi or gig.
However, along with the times when automotive companies entered Indonesia, Bahauddin founded the bus transportation company NPM with his colleagues.
The family company based in Padang Panjang City, West Sumatra is now managed by the third generation under the management of Angga Vircansa Chairul.
In the early days, PO NPM only served a few routes within the province of West Sumatra. Several decades later it developed by opening routes to various cities on the island of Sumatra.
In the 1980s, PO NPM began to travel to the island of Java. From West Sumatra, PO NPM started departures to various majors on the island of Java from several cities, such as Padang, Bukittinggi, Pariaman, Payakumbuh, and others.
At its peak, in the 1900s to early 2000 the PO NPM route network stretched from Medan, Pekanbaru, Dumai, Jambi, Bengkulu, Palembang, and Bandar Lampung on the island of Sumatra, to Jakarta, Bogor, Depok, Bekasi, and Bandung in Java Island.
NPM also serves the main route in West Sumatra, namely Padang – Bukit Tinggi.
Entering the 2000s, all bus POs faced a big challenge. The decline in long-distance bus passenger transportation is due to various factors, such as cheap airline tickets, the ease of getting a private car through credit, and the rise of travel companies that use small cars. This causes many large bus fleets such as PO NPM to be unemployed and cause losses.
In early 2020, PO NPM in collaboration with PO Haryanto and PO Sumber Alam facilitated passengers who would go to Central Java, Yogyakarta and East Java via a ticket.
PO NPM passengers from Sumatra island heading to northern Central Java and East Java will later be transferred to PO Haryanto bus, while passengers heading to Yogyakarta and southern Central Java will be transferred to PO Sumber Alam and vice versa.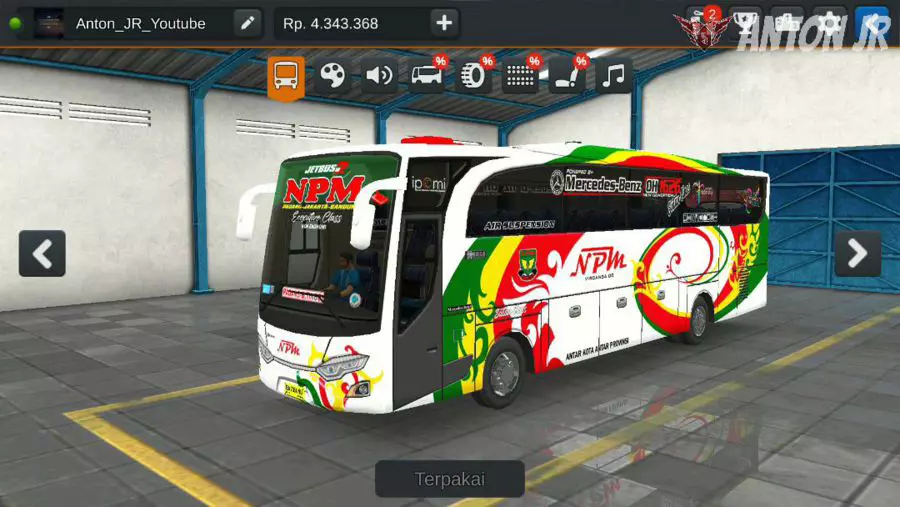 77. Nuasa Ilham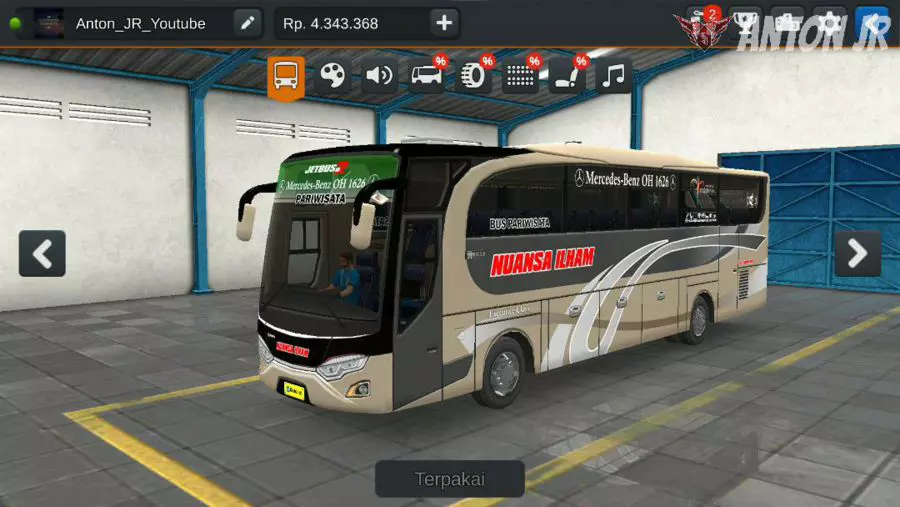 78. Nusantara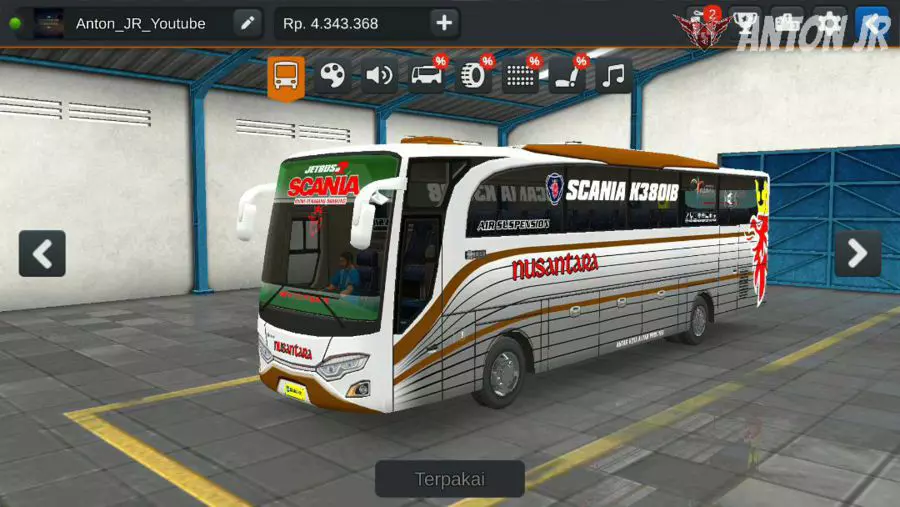 79. Pandawa 87
Pandawa 87 is one of the Autobus Companies that has been engaged in public transportation for a long time.
Previously, Pandawa 87 only served tourist trips, but since July 2021 they have begun to expand into the AKAP bus segment with the Jakarta-Surabaya-Banyuwangi route.
PO Pandawa 87 opens an AKAP bus line with the Super Executive class or Sleeper Bus and there is also an Executive class.
For its first route, PO Pandawa opened the Poris-Banyuwangi route and also the Jakarta-Banyuwangi route.
A total of 6 bus units have been prepared to serve the Jakarta-Banyuwangi route with various classes including Super Executive or Sleeper Bus and there is also an Executive class.
Then for this September, Pandawa 87 again opened a new route with Executive class buses. There are five fleets that have been prepared for this new line.
To distinguish it, Padawa 87 uses a series namely Series C, Series E1, Series E2, Series D1, and Series D2. All bus fleets will pass the Trans Java toll road.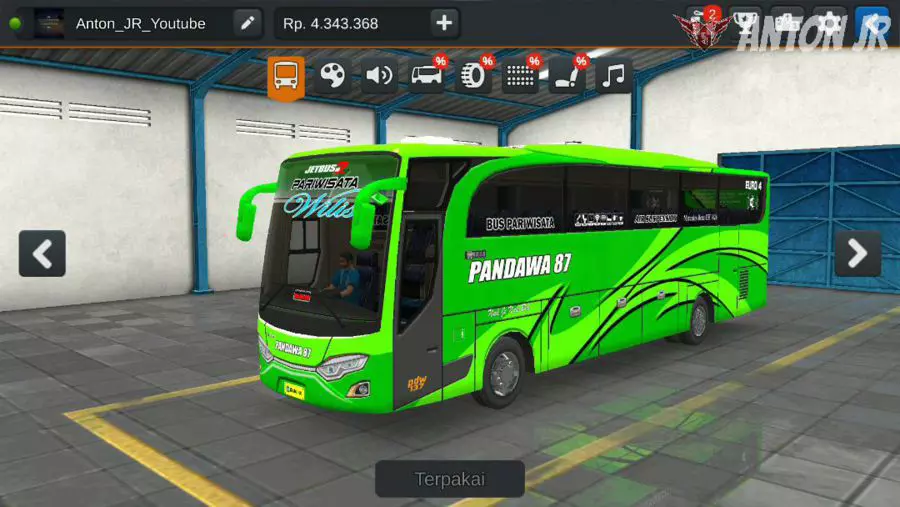 80. Pebepe Arnius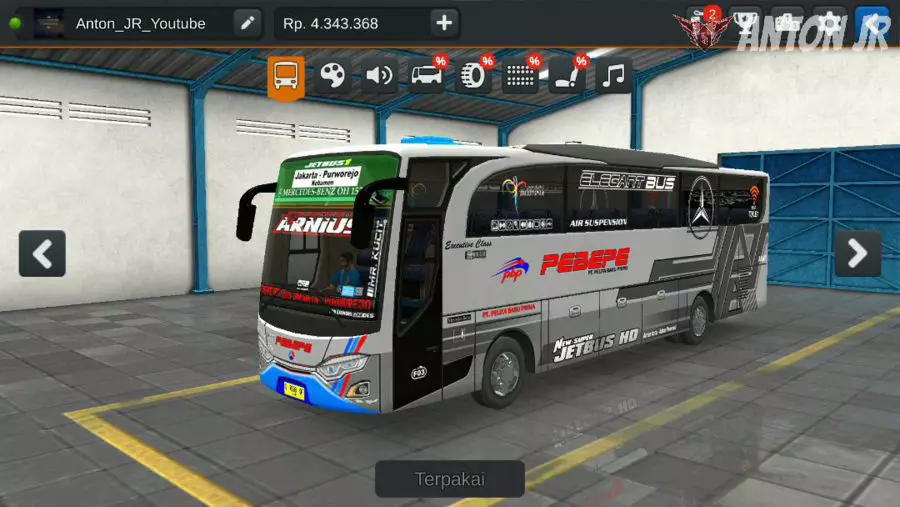 81. PMH Gorden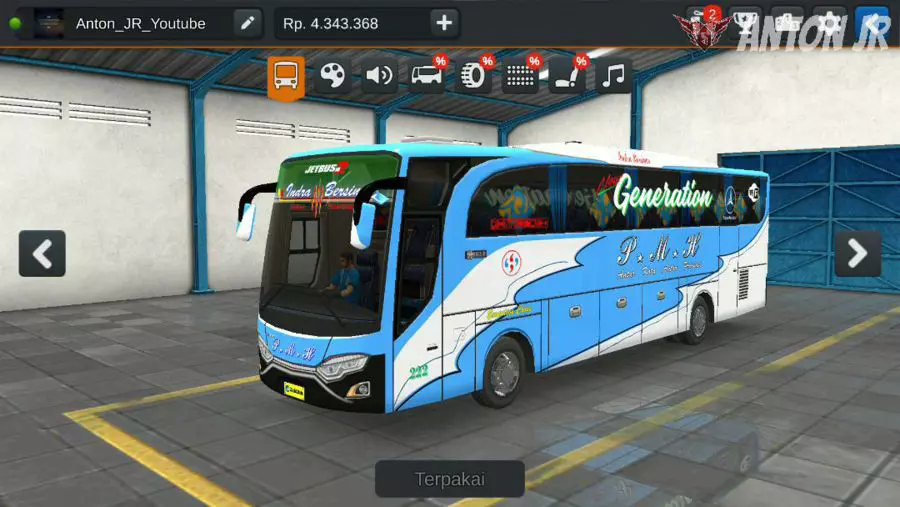 82. PMH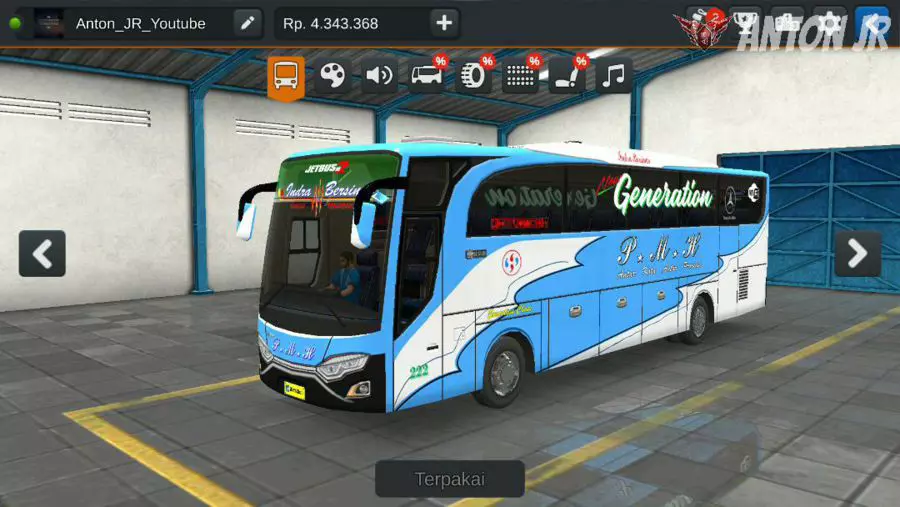 83. PMTOH V2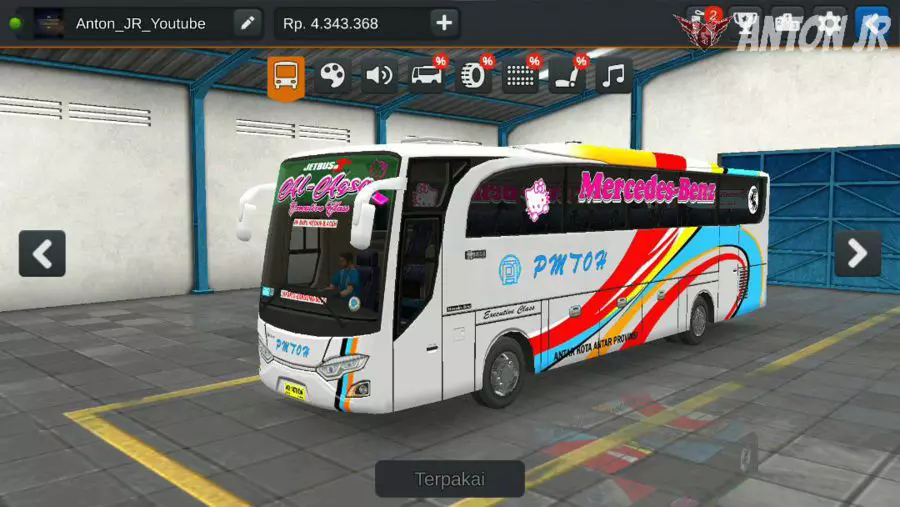 84. Purwo Widodo Kotor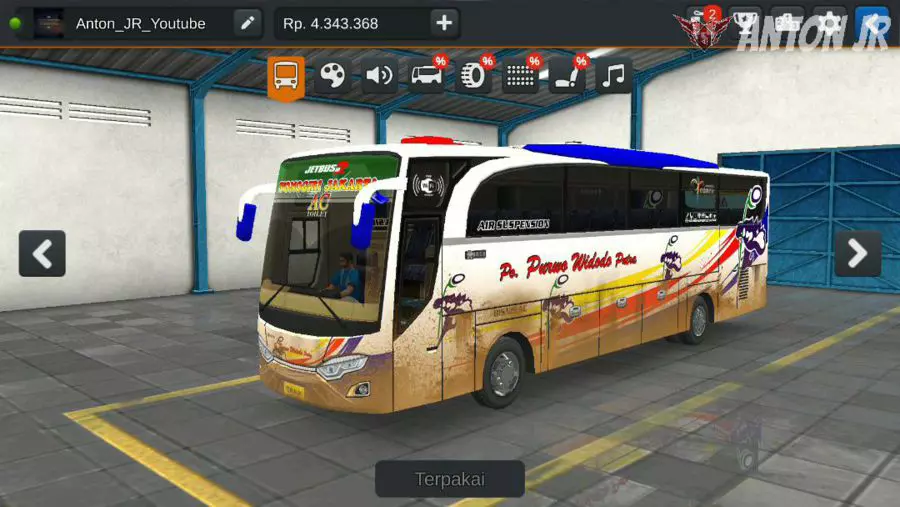 85. Purwo Widodo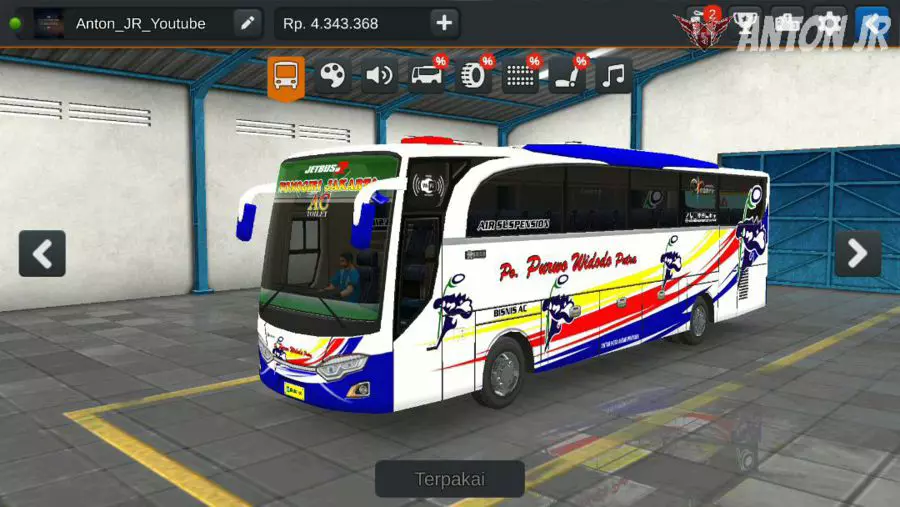 86. Putra Gemilang
87. Putra Luragung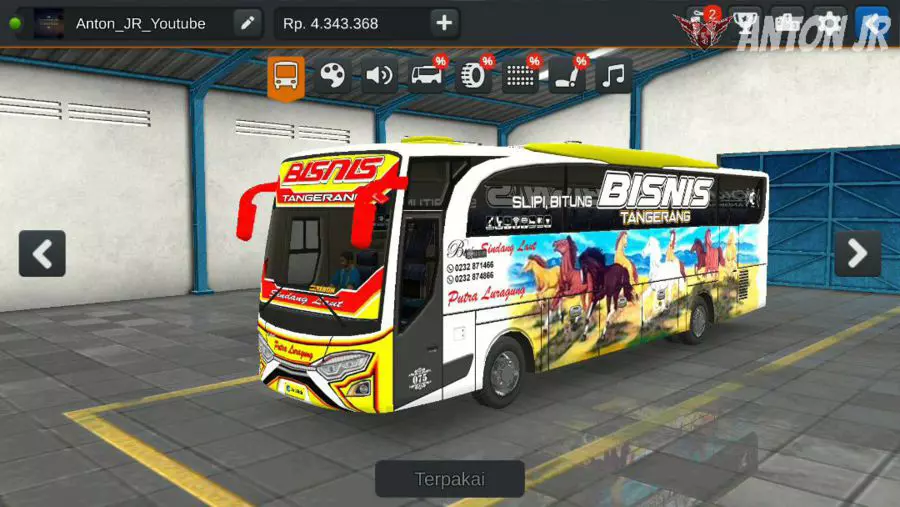 88. Putra Pelangi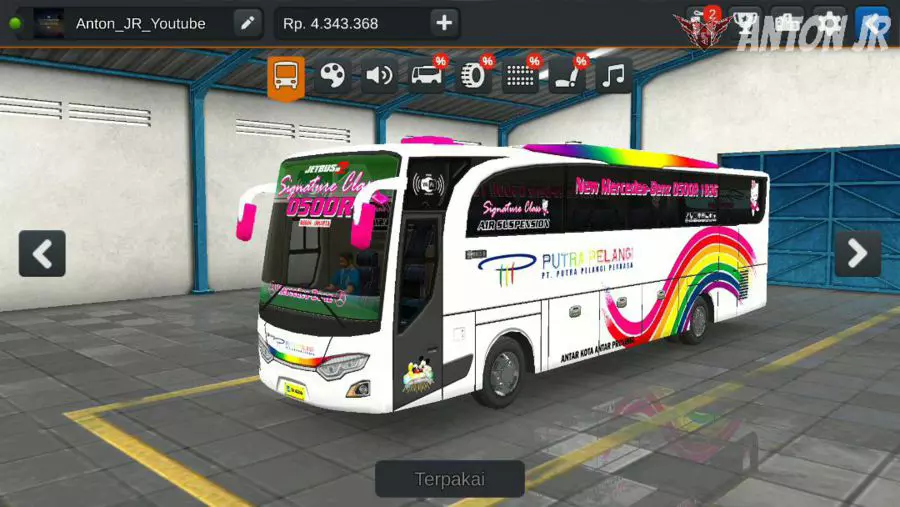 89. Safari Dharma Raya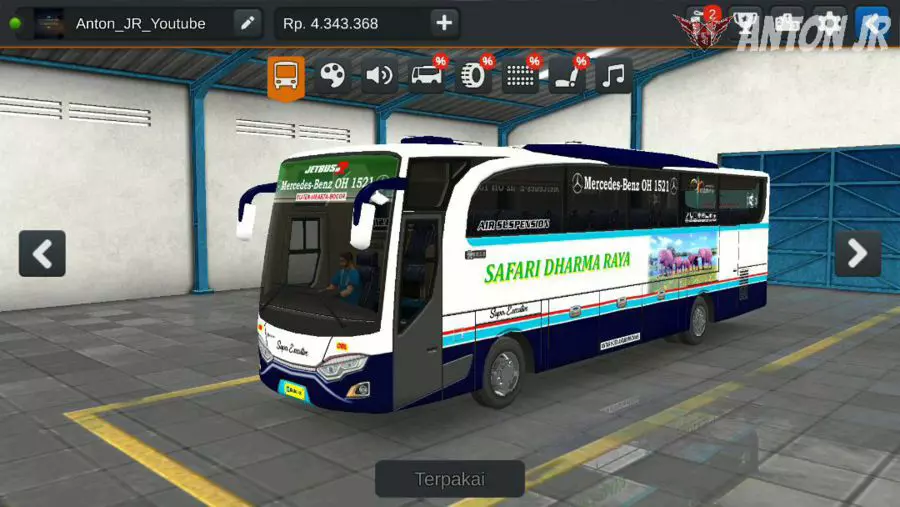 90. Safari Discovery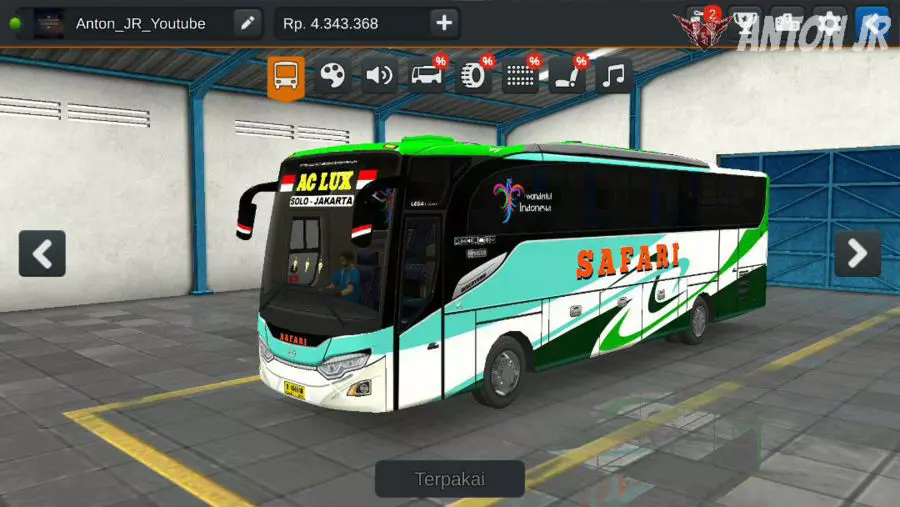 91. Samarinda Lestari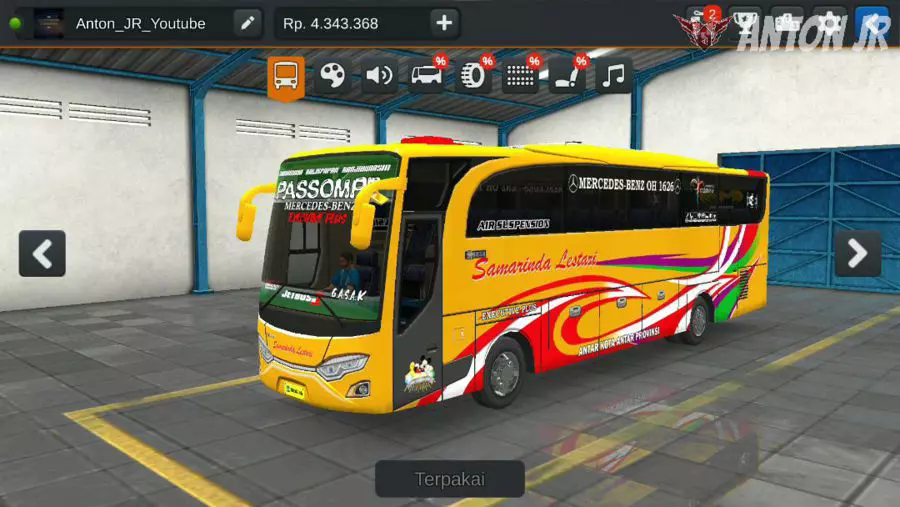 92. Sandpaper Cafe Bus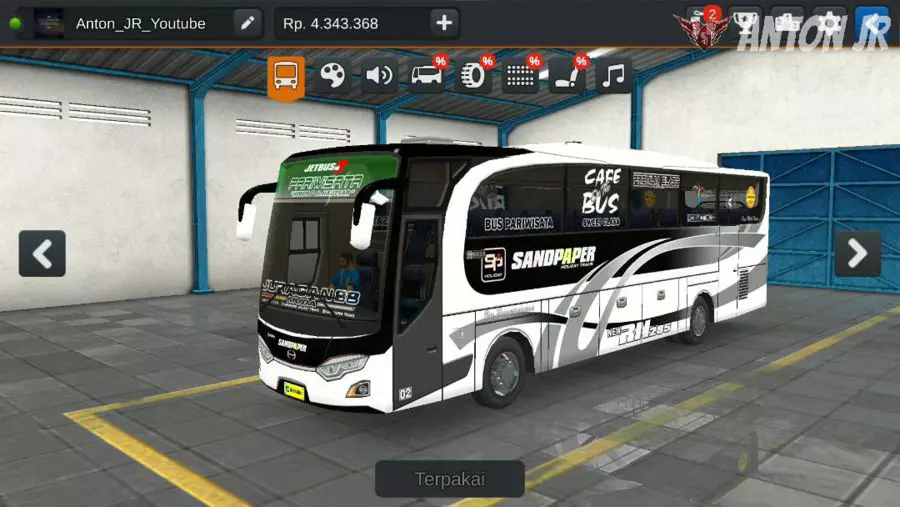 93. Sandpaper Ijo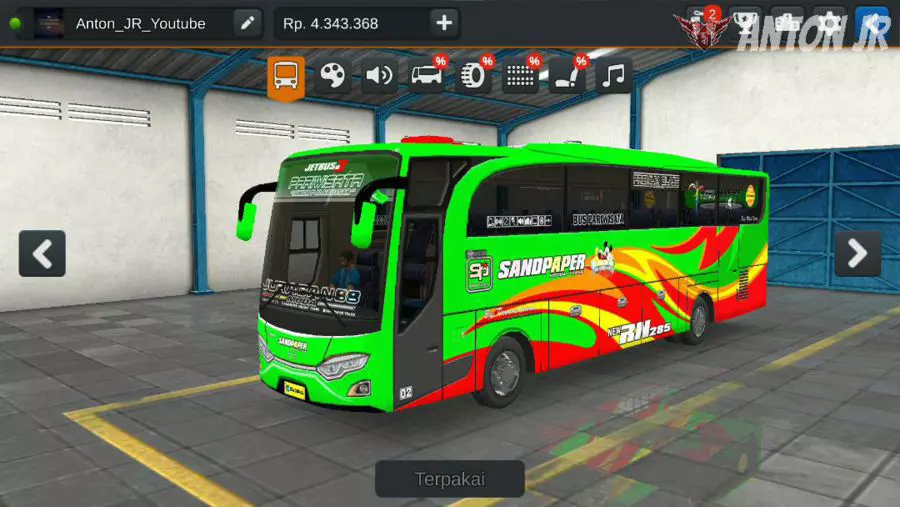 94. Sandpaper Janetes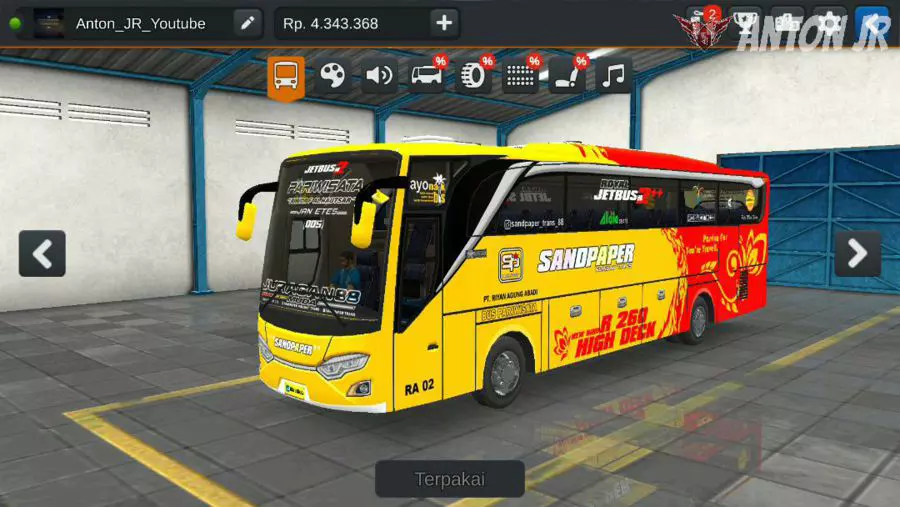 95. Santoso V2
PO Santoso started from PO Tresno which was founded by dr. Anwar Sani and his wife in Magelang in the '70s.
PO Tresno which was inherited to the couple's three children later became 3 new bus companies, namely PO Life Baru, PO Kencana Jaya, and PO Santoso.
When Kencana Jaya was unable to maintain its business, several units of Kencana Jaya buses were purchased by PO Santoso, so that the term Kencana Jaya "cokelat" was once known for the Kencana Jaya buses operated by Santoso.
Currently Bus Santoso operates VIP AC class buses with a capacity of 32 seats in a 2-2 formation, as well as Economy with a capacity of 40 seats.
To ensure the fleet is well maintained, PO Santoso employs a team of skilled and reliable mechanics.
Santoso's fleet is also equipped with trained and experienced drivers. Attention to safety and punctuality has made Santoso a night bus company that has been around for nearly 50 years.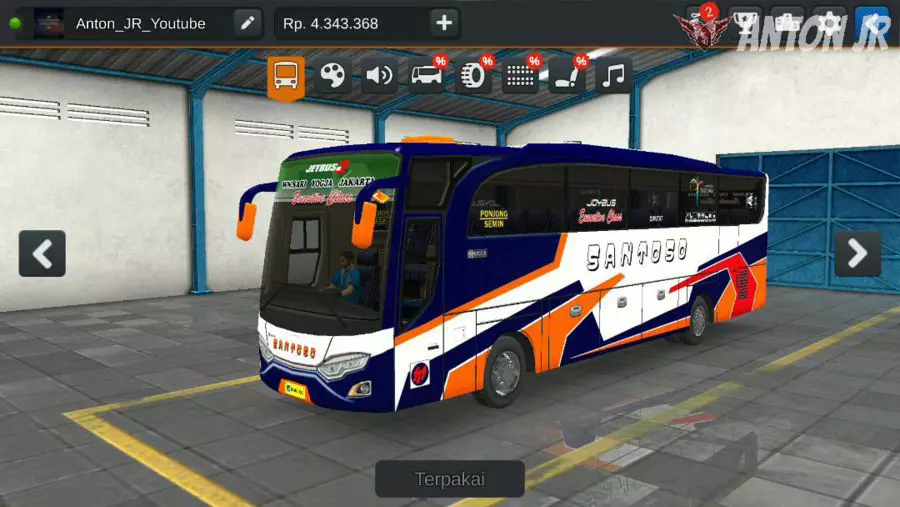 96. Saztro Holiday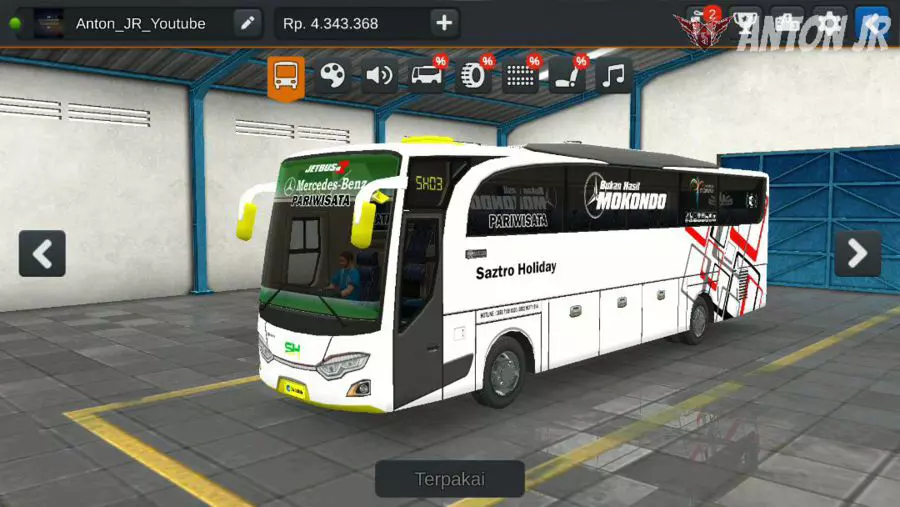 97. SCH Abu Abu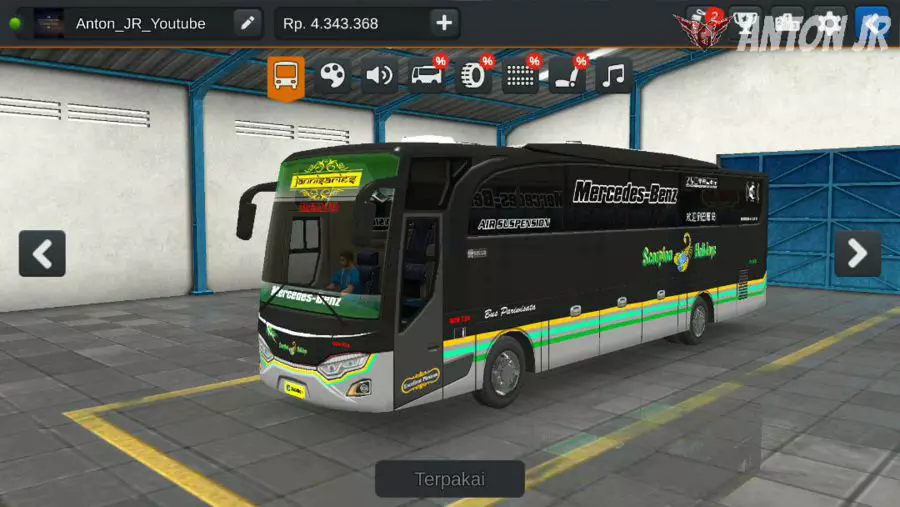 98. SCH Putih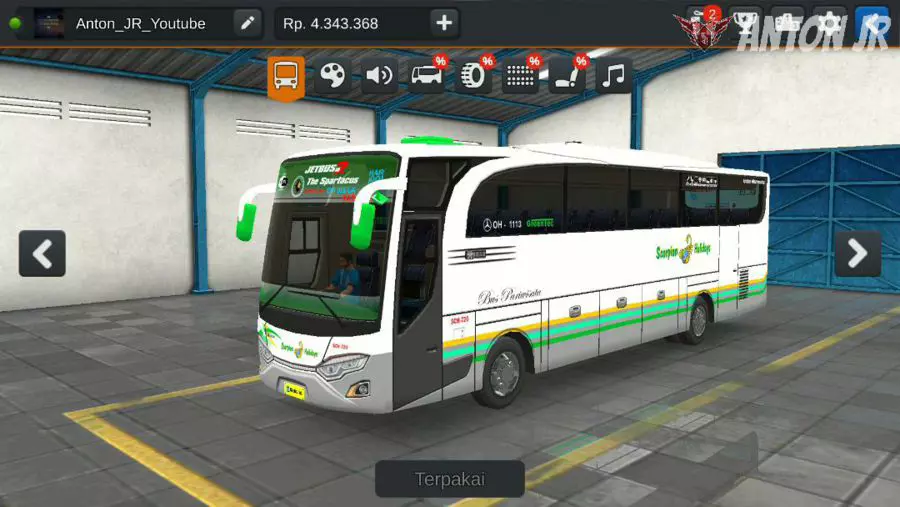 99. SJS Abu-Abu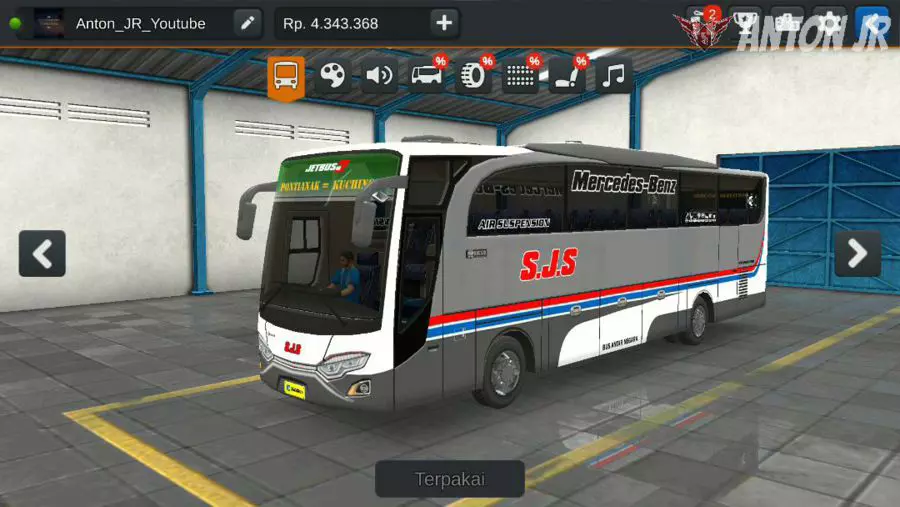 100. Sudiro Tungga Jaya Abimanyu Gorden
Sudiro Tungga Jaya or often abbreviated as STJ is a bus company originating from Magetan City, East Java, with intercity public transportation services.
The owner, Agus Muhammad Syidik, initially managed an oil distribution business. Then as the community's need for public transportation grew, he turned his business into an autobus service provider in 2014.
Only from a few ELF units, now Sudiro Tungga Jaya buses already have several fleets with quite large buses.
When it was first established, Sudiro Tungga Jaya only served the Ponorogo to Bogor (PP) and Ponorogo to Tangerang (PP) routes.
Then, the Sudiro Tungga Jaya bus ticket expanded its route to Sukabumi to Magetan, Karawang to Cepu, Ponorogo to Sukabumi, and many other routes.
Sudiro Tungga Jaya tickets divide routes based on certain divisions. For example, Division 1 East Java serves the Madiun area, Division 2 serves the Wonogiri area, and Division 3 Muria serves the Kudus and Pati areas.
The Sudiro Tungga Jaya bus complements each of its fleets with the availability of the Executive class which has 32 seats. By purchasing a Sudiro Tungga Jaya bus ticket, passengers will be provided with complete facilities.
The facilities available from the Sudiro Tungga Jaya bus ticket price are air conditioning, reclining seats, charging points, leg rest, arm rest, TV, snacks, free food, pillows, blankets, and toilets.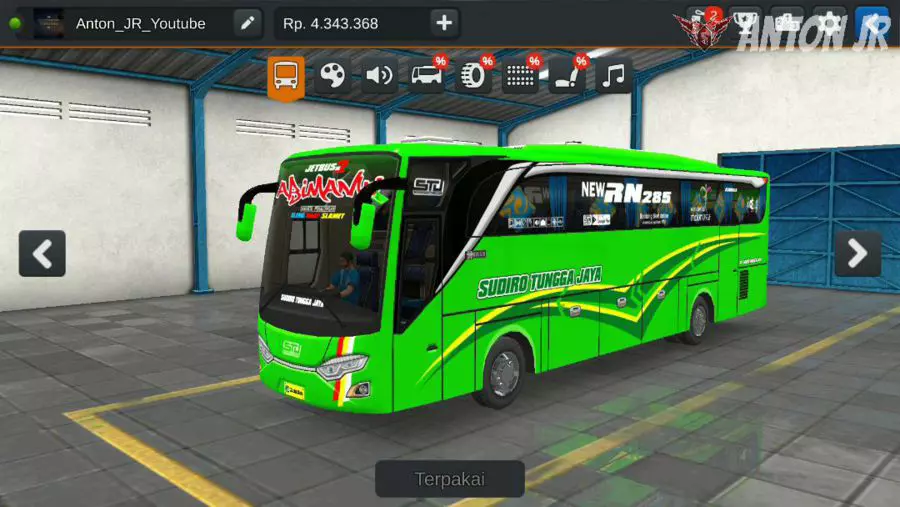 101. Sudiro Tungga Jaya Abimanyu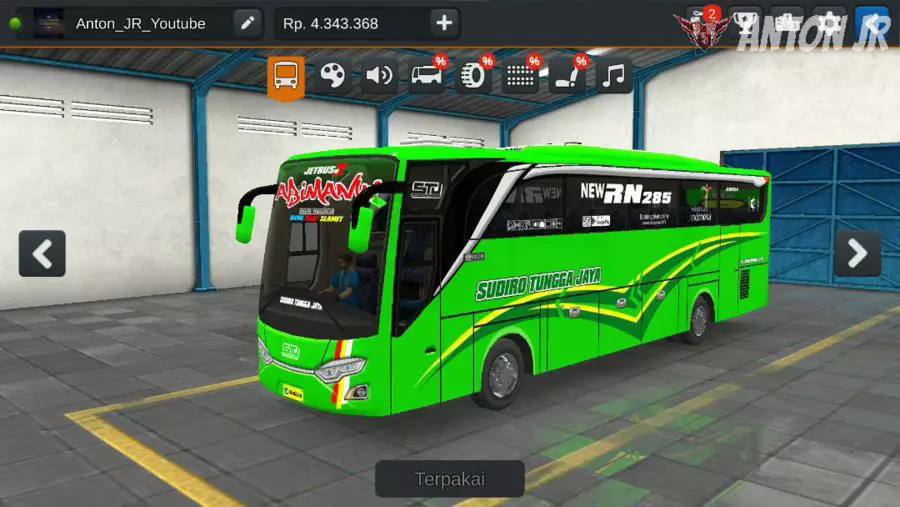 102. Sudiro Tungga Jaya Kimmoura Gorden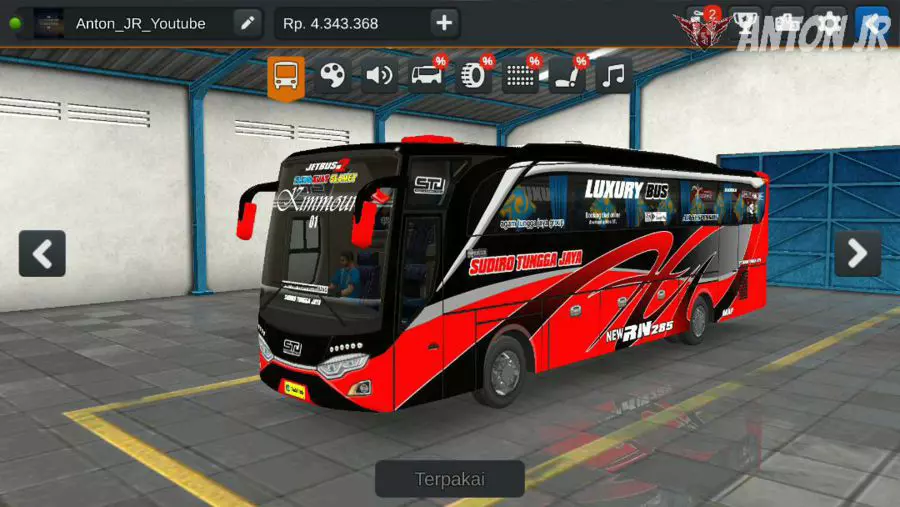 103. Sudiro Tungga Jaya Kimmoura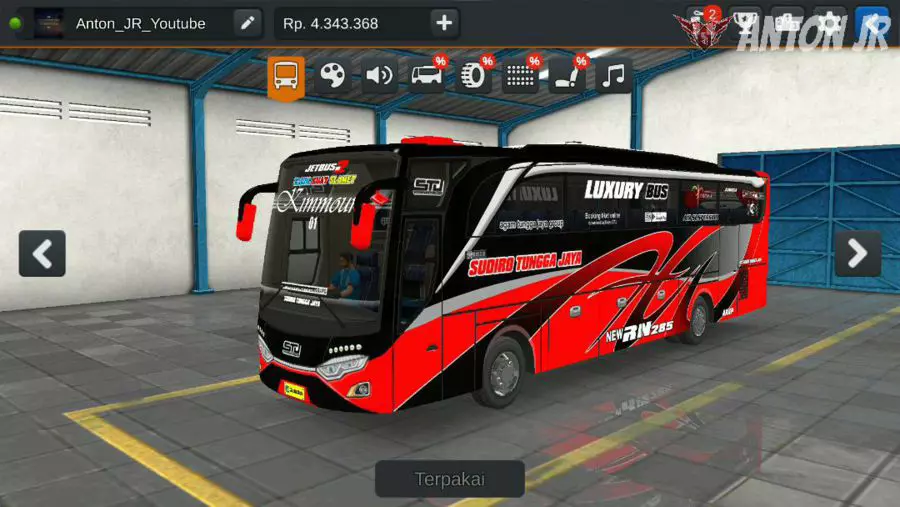 104. Sugeng Rahayu SR1 V2
Sugeng Rahayu is known as one of the legendary buses from East Java. This bus operator, which has been established since 1981 in Sidoarjo, offers economy class, economy AC (commonly called AC Tariff Ordinary or ATB), and executive class to reach various cities on the island of Java.
Under the auspices of Sumber Group, Sugeng Rahayu is now known as the "king of the streets". The nickname was given because of the characteristic of this bus which is always speeding to get to its destination.
This is what later becomes the selling point and attracts people to use the services of Sugeng Rahayu.
The selling value also makes Sugeng Rahayu continue to grow. This can be seen from the achievement of a number of achievements, such as the best service award as the organizer of Lebaran transportation in 2005, 2007, and 2008.
In addition, the company has also been selected as the best bus in terms of administrative completeness of the Purabaya Terminal (Bungurasih) Surabaya 2010 and 2011, and received the title Bus Polite 2011 from the East Java Police.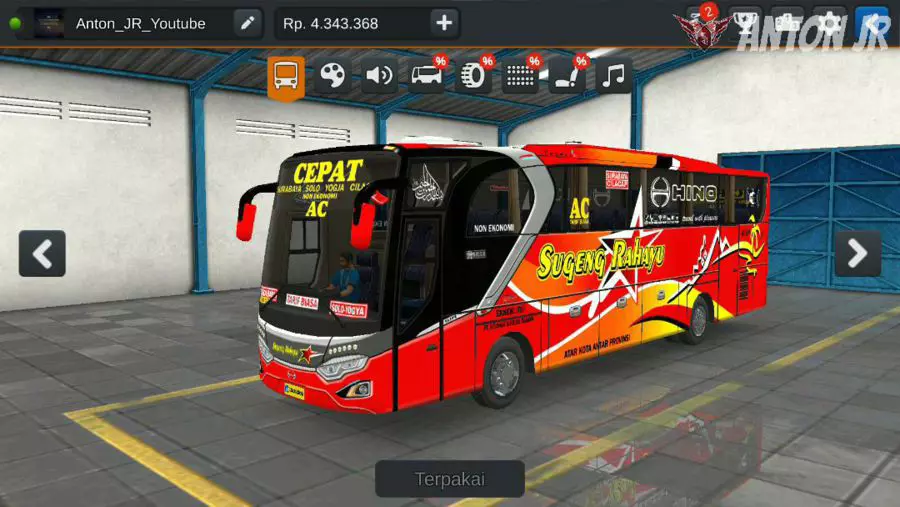 105. Sugeng Rahayu V3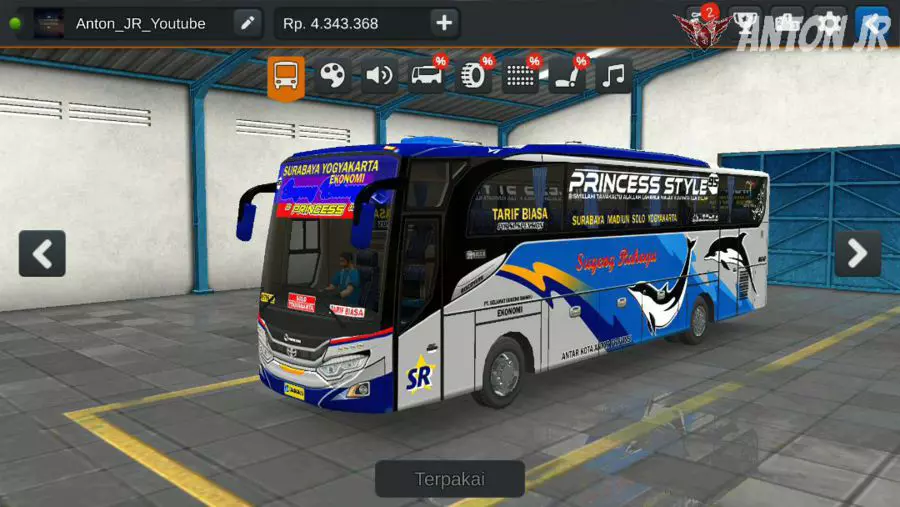 106. Sumber Alam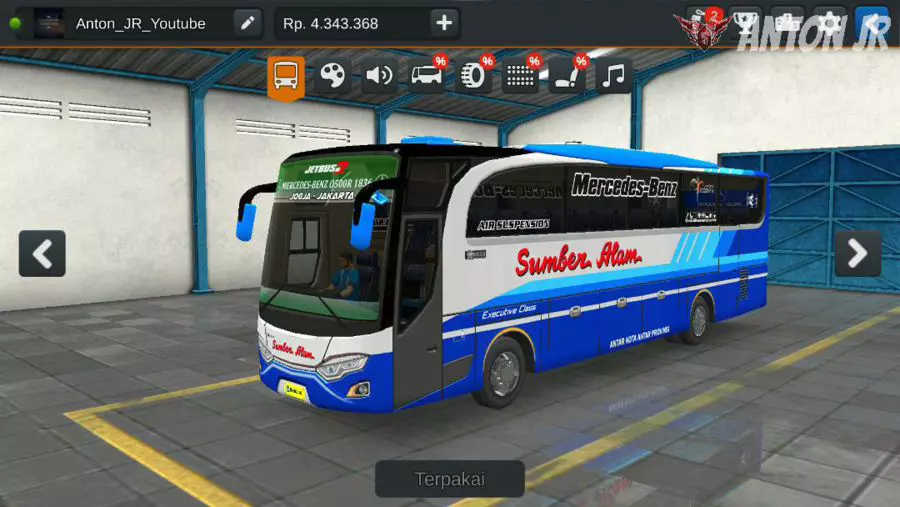 107. Sumber Jaya Black Sweet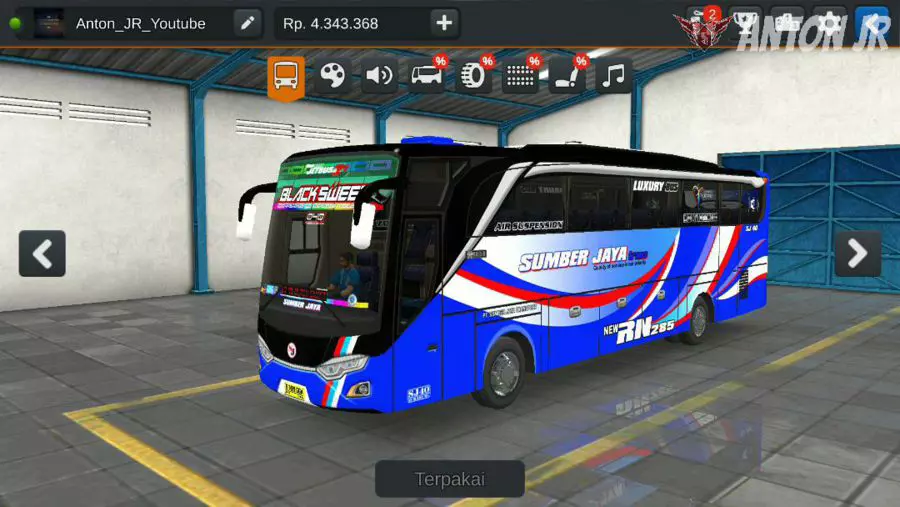 108. Sumber Jaya Genggong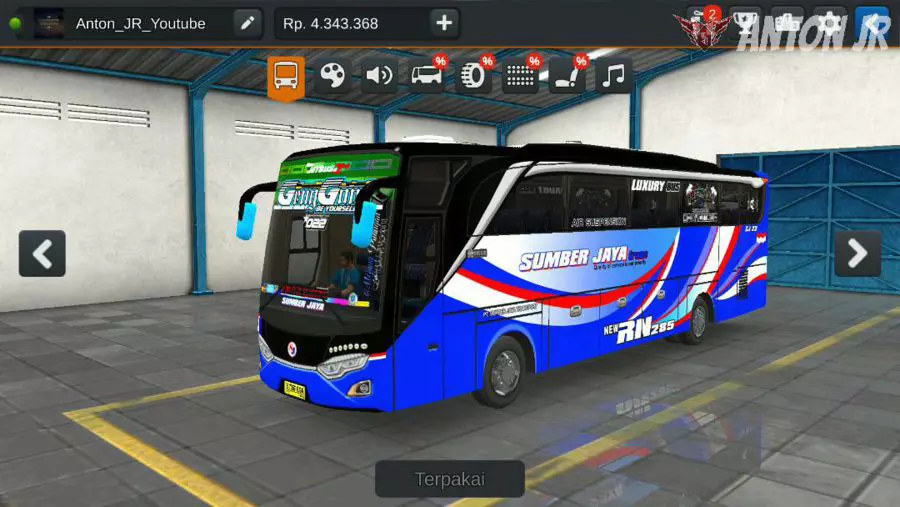 109. Sumber Jaya Gomres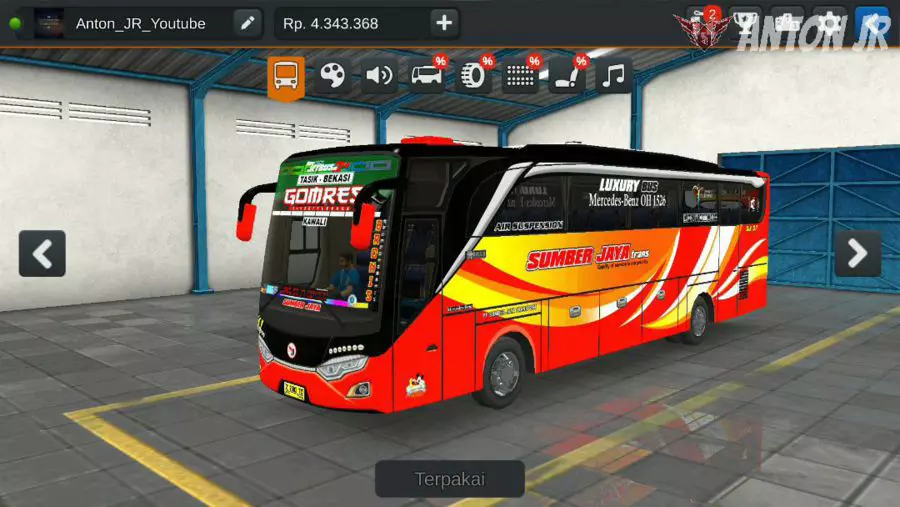 110. Sumber Jaya Jendral ABG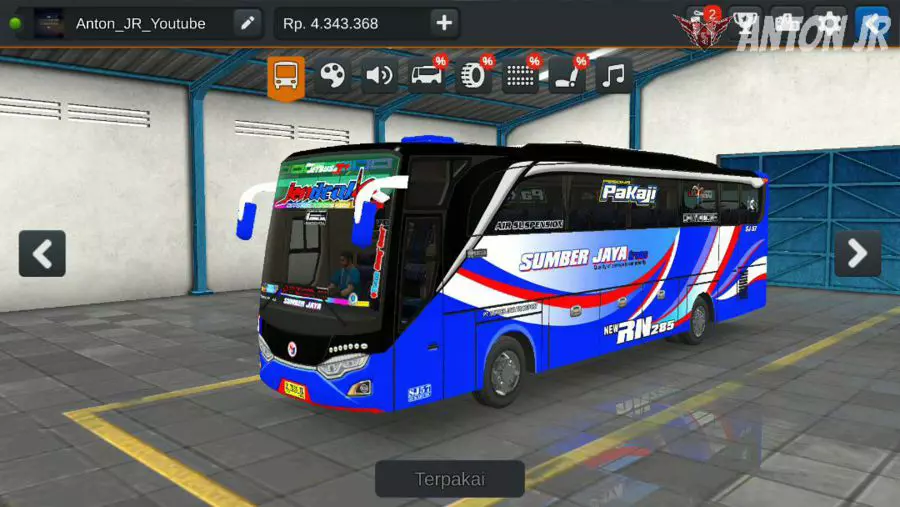 111. Sumber Jaya Kadita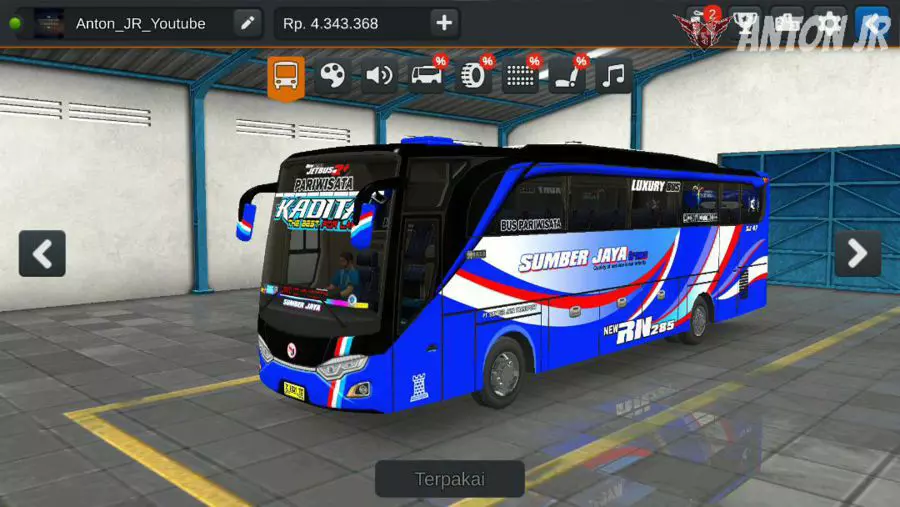 112. Sumber Jaya Ratu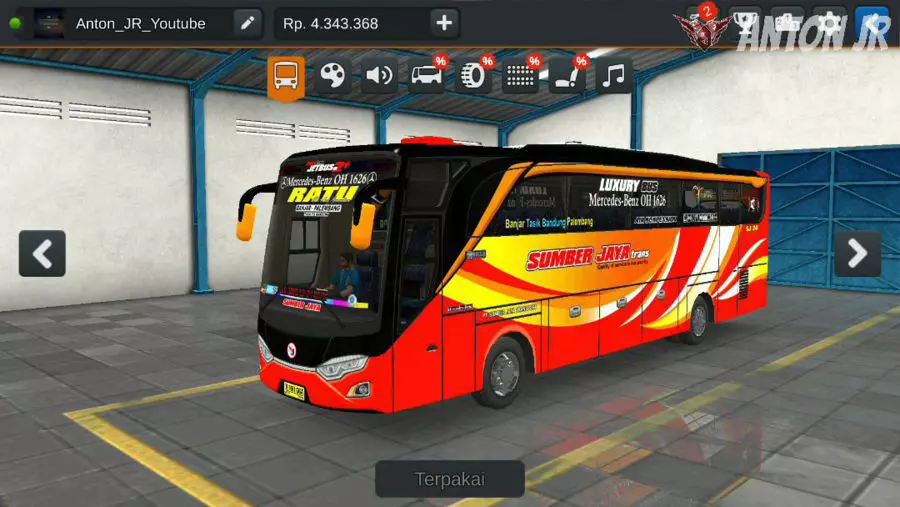 113. T Star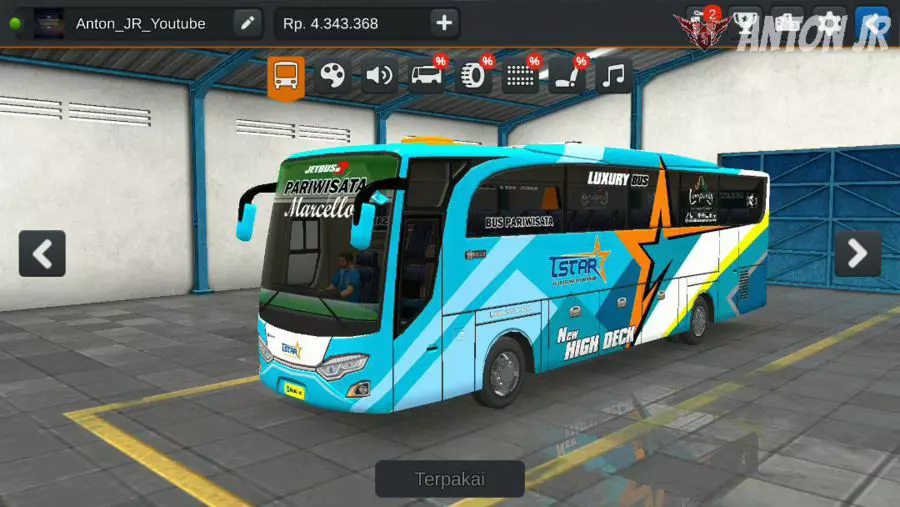 114. Template Efek Rongsokan + Kaca Pecah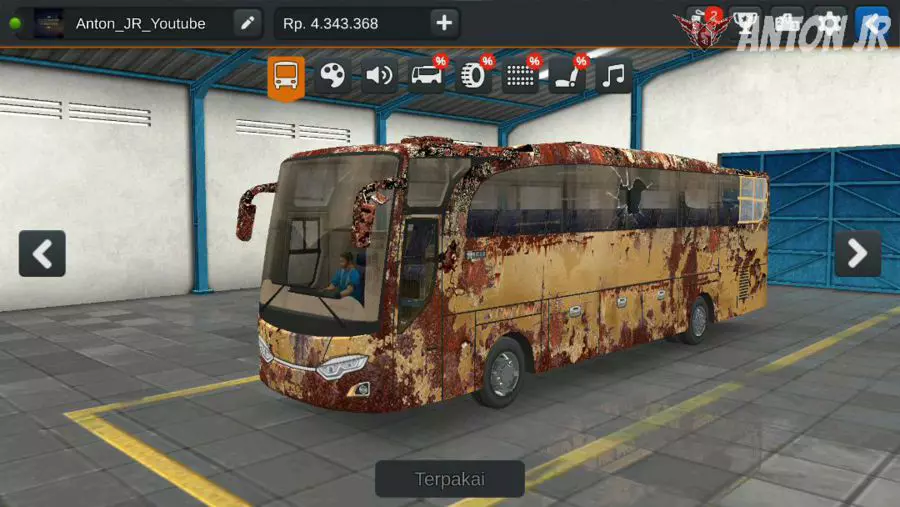 115. Template Efek Rongsokan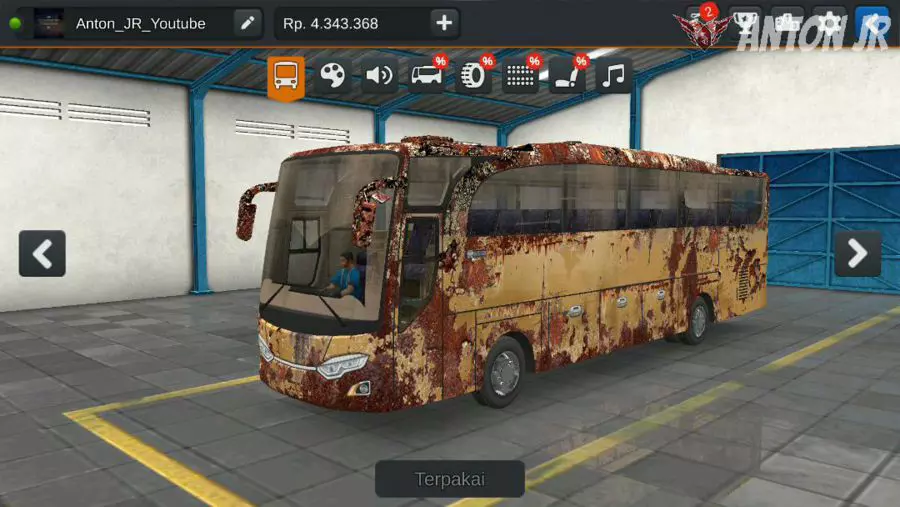 116. Thania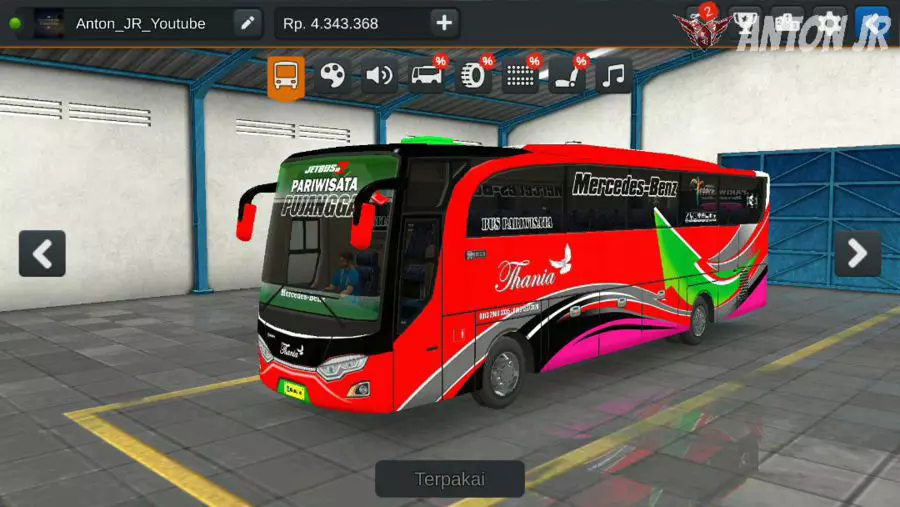 117. Tunggal Dara Putera
Tungga Dara Putera is one of the mainstay of transportation for Wonogiri city residents.
The available routes make it easier for local residents to travel long distances to the western region of Java Island.
This PO was established in 1978 to meet the needs of the Wonogiri residents for public transportation related to the construction of the Gajah Mungkur reservoir at that time.
Initially, this PO provided inter-provincial transportation. However, now he also serves for tourism and package delivery. Supported by a personal body, the services offered are more satisfying.
For his dedication, PO which was founded by Hj. Tinem Darmo Sutarno received a Lifetime Achievement Award from the president of Indonesia in 2015.